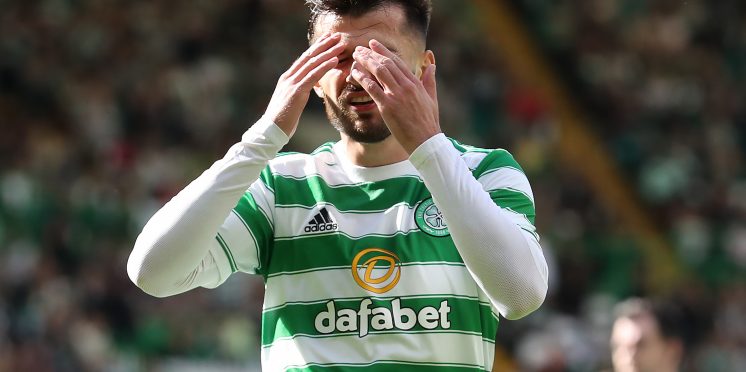 Ajeti Change Detailed As Celtic Manager Updates Giakoumakis
While watching the game over the weekend, the manager made an odd choice.
He positioned Kyogo wide left, Jota wide right, and replaced a midfielder with a striker. So far, so good, because it improved our attacking choices, though some would argue that moving the Japanese predator to accommodate it would have been preferable.
The choice was made to bring in Ajeti, who has struggled as a solitary striker despite this management providing him with opportunities that others have not.
It was as simple as that for Ajeti to do more. You witnessed what Kyogo brought to the table after only 15 minutes on the weekend; he possesses the work rate, awareness, and instincts of a top-tier finisher. Ajeti, on the other hand, is a different story.
This isn't to say I don't think Ajeti has a job to play; I do, but it's as part of a real front two rather than a three-man line across the top half of the pitch. He requires someone to play alongside him and pass the ball to him.
Kyogo seeks it out and creates space for himself, which is why he is the far superior alternative.
However, we do have another alternative in this squad, a player who sat on the bench and did not make the team. We signed a guy from Holland, where he was the top finisher last season. You'd think with a player like that, we'd give him a chance.
For the second time in a month, the manager has had to explain why he wasn't brought on when it appeared apparent.
And it's the second time Ange has done so; Giakoumakis is just not ready yet. Even though he was placed on the bench, this might have been a clever psychological tactic rather than a genuine selection choice.
The manager just isn't willing to take a chance on a player who hasn't fully healed from his thigh injury. He wasn't quite there yet, and Ange wasn't about to do anything that would keep him out for another several weeks. Ange isn't stupid; he knew Ajeti wasn't the greatest option, but he was the only one he was prepared to take a chance on. That, in my opinion, is reasonable.
The point is, his adjustments were successful. Kyogo's placement wide left drew defenders in his direction. While this didn't free up room for Ajeti (which was obviously part of the plan), it did allow Jota to sneak in from the right and score… As a result, it was a job well done.
Giakoumakis is under a lot of strain even before he kicks a ball.
This guy has had an unbelievable amount of build-up.
We're all eager to see what he'll be able to achieve for us.
It will arrive in due time. He should be ready to travel by the end of the international break.
---