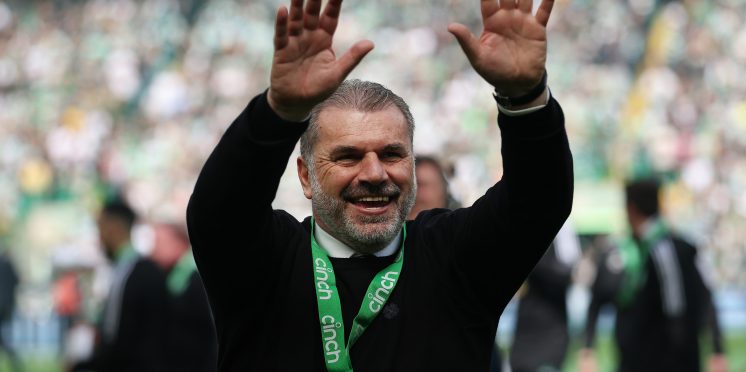 Ange's Rebuild; He who laughs last, laughs loudest!
On 15th May 2021, Celtic's season finally ground to a grim conclusion with a 0-0 draw at Easter Road. The team that day included John Joe Kenny and Vasilis Barkas and it was to be the last of John Kennedy's forgettable caretaker tenure. In reality, the league title which we had held so resolutely for the nine seasons prior was already on its way to the south side of Glasgow several weeks beforehand and I, like no doubt most Celtic supporters, was left feeling despondent not just at the manner in which we'd meekly surrendered our title, but also the direction our club was headed.
Whilst the purpose of this article is not to wallow in last season's misery (I'm sure we have all suffered quite enough in that regard already), it's important to acknowledge the sorry state our club found itself as Willie Collum's full time whistle concluded what was a thoroughly disappointing campaign. As Season 2020/21 wrapped up, we were facing a rebuild on a scale that our club hadn't seen since the turn of the millennium with two key vacancies needing to be filled in respect of Manager and Club Captain. Furthermore, we had an incoming CEO (who it transpired would be a short-lived affair) who was inheriting a club with a raft of wantaway first team players and an empty trophy cabinet, after almost a decade of unbridled success. To add to our woes, our rivals had just gone the season unbeaten in the league and had resoundingly thumped us 4-1 in what was the final Derby match of an entirely depressing season. After what had been a joyous few years to be a Celtic supporter, things had taken a sour turn as marauding hordes mobbed and rioted on the streets in celebration of "55"…
Given what was at stake going into season 2021/22 – automatic Champions League qualification for the league winners for the first time in a decade or more – most Celtic supporters would've been forgiven for feeling somewhat apprehensive about what was to come. The Eddie Howe "will he/wont he" saga only stood to worsen this sense of apprehension and his ultimate knockback was another blow in what was beginning to feel like a swing in "The Banter Years" pendulum towards the East of the city. Our club felt listless and there was an undeniable sense of gloom permeating amongst the support.
However, fear not! For step forward Ange Postecoglou. Many Celtic supporters would've been forgiven for not knowing who the charismatic Aussie was back in the Summer of 2021. I'll admit my immediate reaction was one of genuine concern. Was this really to be our Pedro Caixinha moment? A hasty search of Google proved to be a mixed bag; successful with the Australian national side and in the J-League however a brief, disastrous spell in the Greek lower leagues and a period out of the game altogether as a motivational speaker and pundit didn't provide overwhelming reassurance that this was the man to resurrect the club from the ashes of the last season.
Ultimately, once confirmed I adopted the opinion that I'd judge Ange as Celtic manager and put aside any niggling doubts regarding his credentials or background. However, his appointment was to be met with derisory howls from many mouthpieces and renta-quotes within the mainstream media and it was roundly mocked by supporters of our biggest rivals.
The Celtic PR team shrewdly spun into gear and struck an early victory with Ange's now legendary "micced up" pre-season session wherein the now legendary "WE NEVER STOP" maxim was born. Moreover, it became apparent very quickly from his press conferences that Ange, hailing from an immigrant background himself, had a genuine affinity with the values and ethos of our Club. In addition, Ange's early season putdown of the BBCs Liam McLeod in the aftermath of an away defeat for a makeshift Celtic team in extra time to Midtjylland was a sign of things to come. Here was a man who would not obediently accept unfair criticism from a Mainstream Media who were desperate to see him fail. Kenny McIntyre, resident BBC Ibrokes cheerleader and general pest, was to learn the hard way throughout the season that you don't cross the big fella!
Throughout August, early setbacks occurred on the pitch as Ange underwent assembling his side. That being said there were already promising signs; two 6 nil home victories in the league, an impressive 3-2 aggregate win over AZ Alkmaar to secure Europa League qualification and the emergence of a superstar in the making, Kyogo Furuhashi. The deadline day acquisitions of Giorgios Giakoumakis, Cameron Carter Vickers and Felipe Jota were also to prove pivotal as the season progressed. Despite European football group stages being achieved and early signs of a brand of attacking, free flowing football not seen at Celtic Park since the Tommy Burns era, as August drew to a close the ever-erudite Hugh Keevins had already written Ange off as "Absolutely Not Good Enough" and prominent bluenose bloggers were tipping Aberdeen to finish 2nd.
The media started to sharpen their knives as by the time the international break came round at the end of September, Celtic sat 6th in the league after 6 matches and had lost at Tynecastle, Ibrokes and the Tony Macaroni arena. In the aftermath of a 1 nil defeat at the Spaghettihad, Thankfully Felipe Jota was on hand to quell the baying masses, sensibly reminding them;
"LAST TIME I CHECKED THERE ARE NO CHAMPIONS IN SEPTEMBER…THE CHAMPIONSHIP WILL END IN MAY, I THINK AND THEN WE CAN SPEAK ABOUT THAT".
The Portuguese wingers cool, calm and collected outlook would prove to be prophetic as Celtic charged onto a 31-game unbeaten run in the league. A late Anthony Ralston headed winner at Ross County exemplified Ange's "WE NEVER STOP" mantra perfectly and silverware was obtained at the first time of asking prior to Christmas as Ange and the Bhoys lifted the League Cup courtesy of two moments of utter class from Kyogo.
Spirits were dampened somewhat when a cobbled together Celtic side were held to a nil all draw at St Mirren. As we entered the Winter shutdown, we trailed the then league leaders by 6 points. "Gio" had recently come home and "56" was all but a foregone conclusion. All was well in Bear-ville, meanwhile Celtic, whilst plucky, simply didn't have the mentality to topple the Behind Closed Doors champions.
As we exited the Winter shutdown, our rivals acquired marquee signings in the January window who domestically proved to be almost wholly ineffective, meanwhile Celtic were bolstered by astute signings in key positions thanks to Ange's knowledge of untapped markets.
The 29th of January 2022 was a day which I think proved decisive in the swing in Title momentum. The Govan Galacticos were held to a 3-3 draw in Dingwall in the early kick off courtesy of an aged Greegsy lending a late assist to his opponents to drop two points. Thereafter, a 10-man Celtic team, missing their captain through injury, scored a 91st minute winner to beat Dundee Utd at Celtic Park. This set the next fixture up perfectly; should Celtic beat Rangers, we'd go top. As I applauded Celtic off the park that day and celebrated in the Lisbon Lions stand with my brother, for the first time I truly believed that we we're going to win the league title.
The rest, as they say, is history. A resounding 3 nil victory under the legendary Disco Lights against a Rangers 2012 side featuring a 37 million pound wonderkid was followed by a post-match party sound tracked by the classic "Roll With It" by Oasis. Ange's side never looked back from there domestically. Giorgios Giakoumakis, whose Celtic career hadn't gotten off to the most auspicious of starts through injury, handily got into the habit of scoring hat-tricks. He also produced his magical crystal ball in late February to predict a Celtic title triumph, much to the ire of the Rangers 2012 playmaker Ryan Jack.
Crucially amongst the 31-game unbeaten run, a hard fought 2-1 victory at Ibrokes was achieved to all but secure the league title, despite the efforts of Welsh megastar Aaron Ramsay. This was followed up by a 7 nil drubbing of St Johnstone at Celtic Park where Angeball was in its full, emphatic flow. Celtic continued to be relentless during the post-split fixtures and ultimately, the league was won fittingly at a raucous Tannadice, a ground where in March 2021, we had meekly surrendered our title in nigh on eerie silence due to the Covid restrictions of the time.
On the final day of the season, Celtic put on the style against Motherwell, winning 6 nil to kick off what was to be a joyous day of celebrations at Celtic Park. Ange, as he stood with 60k Celtic fans cheering his name, was visibly emotional. For all his gruff exterior, we have a manager who is a man of integrity, humility and genuine decency. His appointment may well have been roundly mocked by the media and opposing fans, but as Ange soaked up the adulation in his trademark black jumper, the big man has proved the naysayers wrong. No one is laughing anymore and the best part is…the Age of Ange is only just beginning!
---