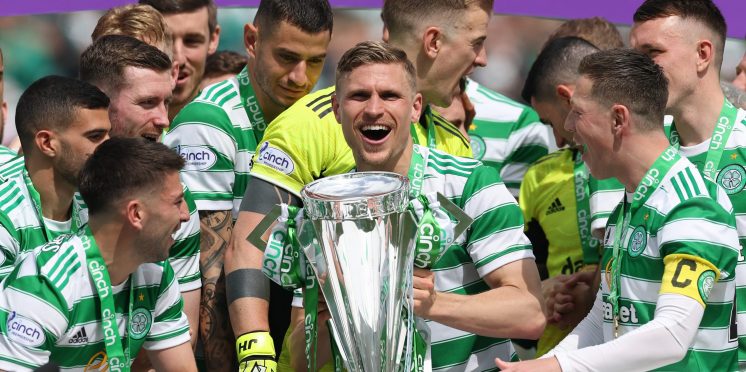 As reality bites…now is the time to Respect the Champions!
As Season 2021/22 winds to a close, Celtic end the season as Cinch SPFL Champions, League Cup Winners and have the luxury of an extended summer break, free of perilous European qualifiers for the first time in over a decade. We swept the board at the Football Writers, PFA and Manager of the Year awards and overcame a 6-point deficit with an almost entirely new squad and a manager who was roundly mocked at the time of his appointment by parochial mainstream media outlets and dullard pundits.
Celtic's achievements are even more astonishing when you consider the several injury crises we suffered throughout the season and the fact we went on a 32-game unbeaten league run following a hit and miss league start. We can now sit back and enjoy the summer, safe in the knowledge that Celtic will be dining at the top table of European football again in the next campaign and banking all the riches and gravitas that comes with it.
I write this as, in amongst all the media furore these past few days surrounding the Govan Globetrotters ill-fated trip to sunny Seville, you'd be forgiven for thinking Celtic hadn't excelled this year on several fronts. Our recruitment of players has been the most effective it has been in many years and we have also filled key scouting, performance analysis and sports science positions by bringing in the likes of Antoine Ortega, Mark Lawwell and Anton McElhone to the club. On the pitch, we have seen a style of high scoring football that excites us supporters and has now been proven to bring success. The best is yet to come from this squad and manager and it'll be exciting to see how the team is further bolstered over the summer in preparation for retaining our title and having a crack at the Champions League.
Unfortunately, as many of us will have witnessed online recently, whilst two of our star players in Jota and Starfelt were travelling abroad together to enjoy some well-earned time off in the sun after a hectic but trophy laden season, they were harassed and harangued by a group of pot-bellied, sombrero clad individuals who it seems had consumed one too many cervezas in the airport departure lounge. The champions, ever graceful, took this juvenile conduct in their stride and a short time later Starfelt shared a simple yet fitting message over his social media in response to it; Respect the Champions.
As reality begins to hit home for those who were banging the "We've goat bigger fish to fry" drum over the last few days and the mainstream media no longer have the welcome distraction of reporting on jovial Bears In The Sun, perhaps now we might finally see this Celtic team receive the credit and recognition they so richly deserve for what has been a hugely successful season on many fronts, although somehow I doubt it.
---