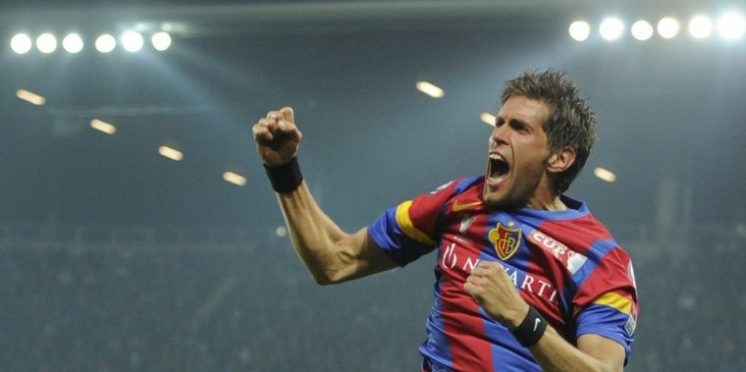 Basel Legend Hints Ajeti Will Flourish In Celtic's Preferred Formation
The capture of Albian Ajeti will allow Celtic and Lennon to revert back to that effective 3-5-2 formation that we saw in the second half of last season, this totally destroyed teams and helped the club soar infront with a 13 point lead to secure 9 in a row.
With all that's happened to the club in the last few days, Celtic fans are in dire need of a boost of morale for the weeks to come, Ajeti himself hasn't had much of a great past 12 months since signing from Basel and attempting to cement a place in the West Ham squad.
Things will change for both Ajeti and Celtic according to Beni Huggel, the former Basel and Switzerland midfielder who now works as a pundit with national broadcaster SRF in his homeland, believes Celtic should be delighted to have secured the services of his compatriot.
"Albian is a skilful guy," he said. "He has a lot of determination and a good mindset. He always wants to win, always wants to get the most he can out of a game. He is also good technically and can shoot with both feet. He isn't the tallest striker, just six foot or so. But he is a good header of the ball.
"He plays with a lot of emotion. When he was at Basel the fans loved him because he always gave the impression of giving everything that he had for the team. He had a great attitude. I think the Celtic supporters will like him.
"Albian is of Albanian descent. After the war in Yugoslavia in the 1990s a lot of people from the Balkan states moved to Switzerland and a lot of Albanians live here now. They have a different style from Swiss people, but they are accepted. They are hard workers. That is certainly a trait of Albian's play.
"He had a lot of good games with Basel and won his move to West Ham. But he has had a lot of competition for a place in England and hasn't played. The Premier League is the biggest in the world. Sometimes that happens in football.
"I think going to Celtic is a good step for him. They are a big club and are always at the top of the league. He will get a lot of chances to score there. He is a really good striker and should take them."
"Albian is at his best when he is playing in a two man front line with another striker," he said. "He senses where space is between the centre half and the right or left back or the defence and the defensive midfielders. He can play as a lone striker in a 4-3-3, but he is better in a 3-5-2."
With the former Basel star hinting that Lennon could have signed Ajeti specifically for that formation, Celtic fans could be in with a real shock this season if all things go well as Albian Ajeti could be the gem that Lennon needs to retain the title and win 10 in a row.
---