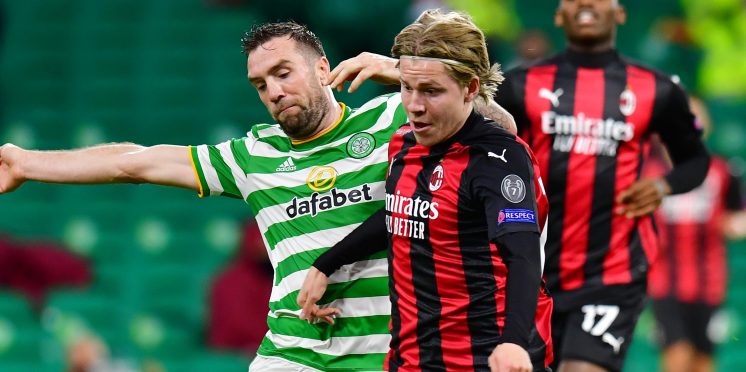 Beaten but not Broken: European Defeat Isn't the Disaster Some Claim
It's never nice to see Celtic lose, especially at home.
Of course, last Saturday's feeble showing against the Tribute Act from across the city didn't help either.
However, whilst the Daily Record and the other Scottish MSM rags have already awarded Rangers the League, the Cup, the Europa League, the World Heavyweight Boxing championship and the Kentucky Derby, the rest of us remain in the real world.
I'll be honest, going into last night's game against Milan I don't think I've ever felt as disinterested in a Celtic European game.
Like most of you, my primary concern this season is the ten. We have the capability and the manpower to get it done. What we don't seem to have right now is the confidence, the organisation or the leadership to play to our full potential.
Rangers are to Milan what a homeless jakey is to Jeff Bezos. Yet both teams beat us by a two goal margin.
However, last night we had a Celtic team that played well, but an opposition who were simply better than us.
Last Saturday, our opponents were mediocre, but we were abysmal.
It's not often that Celtic lose two games in a row. Though Diego Laxalt joins a very exclusive club. He now stands alongside Henrik Larsson as one of the very few Celtic players to lose their first two games at the club.
If Laxalt goes on to have half the impact that Larsson did for us, then I think even the most cynical amongst our support will be delighted.
Back on topic, what was the difference between Saturday and last night?
What can the team do to ensure these "Jekyll and Hyde" performances from one game to the next don't become a habit?
Well, first of all, playing with two recognised strikers from the start definitely seemed to give us a greater impetus going forward.
While he only lasted 45 minutes, seeing Leigh Griffiths leading the attack once again was a welcome sight. So too was another sighting of Tom Rogic.
Questions remain about the long term fitness of both these players, but undoubtedly, when they are on their game they are as good as anyone else at the club.
Our biggest worry remains our defence. However, against a club like Milan even the best defenders in the world can be made to look like rank amateurs.
Aberdeen this Sunday represents a chance for us to lay down a marker.
Integral to our chances of winning that game will be a strong showing from our defence. Shane Duffy in particular needs a big, commanding game to silence the critics.
He was posted missing last Saturday and he didn't look all that convincing last night either. However, he is undoubtedly a quality defender. You don't get to captain Ireland and play in the EPL if you're a dud.
As I said in my preamble, home defeats are never easy to take. Losing two in a row is, thankfully, seen as something of a freak occurrence for Celtic these days.
If we are being entirely realistic, Europe is, at best, a sideshow this season. At worst, its a needless distraction from our priorities.
Last night this Celtic team showed they can compete with the elite of Europe. However, the true test as to what lessons have been learned from our loss last weekend, will come this Sunday against Aberdeen.
I still believe in Neil Lennon, but losing to the Govan Dodgers last week means real questions are being asked about his capabilities.
I hope that on Sunday he begins to answer them not just with a win but with a dominant performance. We are the best team in Scotland, and its time for everyone to step up and remind others of that fact.
---