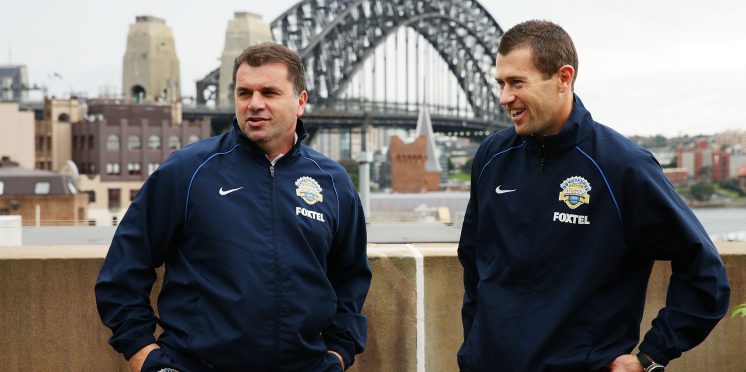 Big Ange Gets Blessing From Perfect Icon
Paul McStay, a Celtic icon, has put his support behind the club's new manager, Ange Postecoglou, claiming that the Greek-born Australian's will to achieve would make him a success at Parkhead.
McStay, who played over 650 times for the Glasgow club throughout his playing career, has lived in Australia for almost a decade and has seen the coach's work firsthand.
Postecoglou guided the Socceroos to the 2014 World Cup group stages and was most recently the manager of Yokohama F Marinos in Japan, which he left to succeed Neil Lennon as Celtic's first-team manager.
Some fans are apprehensive that a relatively unknown coach has been appointed manager at Parkhead, but McStay says that the new manager is a natural winner who prefers an attacking style of play.
He stated:
"The people I talk to in the football world here feel Ange is a top coach and it's a move he deserves after all the success he's had in Australia, Japan and with the national team.

"Everyone's delighted his success has been recognised by a top club in Europe. The football community here are excited by the prospect of Ange working at Celtic and the prospect of it raising the profile of Australian football in the eyes of Europe.

"I've been here for 11 years now and Ange is a name aligned with quality coaching and success here and in Asia.

"What I've learned in my 11 years of being here and keeping an eye on the game is that he's a winner. Wherever he goes, he seems to have that formula and structure to his teams, and the way he plays brings success.

"That comes from him being a quality coach but I think within him is a character who has that winning edge as well, which I think will be really important at Celtic."

McStay continued: "I've seen what he did at Brisbane and the Australian national team. Going to Europe is taking it up a level from the point of view of the A League and the Asian footballing world.

"What he's proved is he has that experience and expertise and the mental strength to go and win things over in Europe. It's what he's been waiting for – that opportunity to go and show he can do it in Europe as well.

"He has that opportunity now and whether you're a player or a coach, sometimes you need someone to believe in you, look at what you've done in your career so far and give you that opportunity to move up a level.

"He has that now and when he flies to Europe he'll not lose his coaching knowledge and expertise. It's just a matter of taking it up and level and maybe working with better players, and he's got the capability to do that."
---