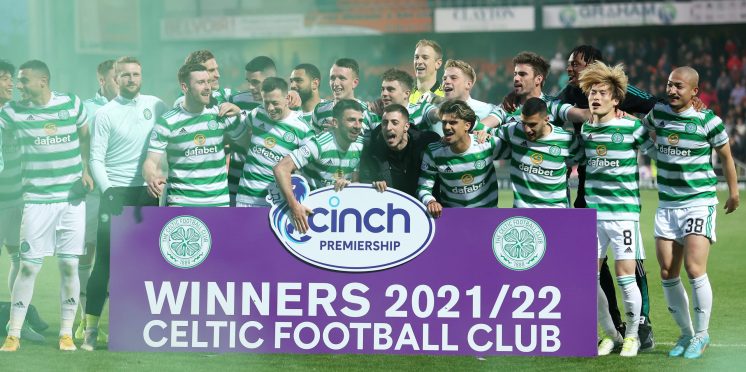 Block out the noise; The Champions are only getting started!
As I write this article, Celtic are confirmed as the Cinch SPFL 2021/22 Champions. We are also the current League Cup holders and have the luxury, for the first time in many a year, of automatic Champions League qualification for the coming campaign. It's fair to say that the turnaround on and off the park at this club since Big Ange Postecoglou came to town on 10th June 2022 has been nothing short of remarkable.
Given the mess that Ange inherited and the fact we were facing an opponent who had gone unbeaten in the league in the previous season, the Mainstream Media and our rival supporters had given us little chance of success. "56" was all but confirmed before a ball had even been kicked, the timelessly stylish brown brogues had been well and truly looked out and the domestic Treble was inevitably on its way back to rest staunchly in the illustrious Blue Room on the south side. Natural order had been restored and those pesky Tims had been put back in their place….
However, our transfers in the summer window of 2021 indicated a change in direction, wherein players were now being bought to fit a particular system for relatively modest sums of money. This was in stark contrast to the signing policy of old, in which we've seen a variety of players being brought in on permanent and loan deals in a hotch-potch manner in the hope that we struck lucky. (Eboue Kouassi, Marian Shved, Youssouf Mulumbu, Charlie Musonda, Oli Burke and co, anyone?)
Key signings such as Joe Hart (1m), O'Riley (1.6m) Hatate (1.4m), Josip Juranovic (2.5m) and Daizen Maeda (1.6m), coupled with genuine stars in the making such as GG and Kyogo secured on long term contracts, brought success back to our club and there's a lot to be happy about at Celtic Park as we look forward to what lies ahead with this group of players.
Our excitement can only be furthered when we consider for large portions of this season we suffered a significant injury list which hampered Age's ability to utilise his full squad. Moreover, our achievements are even more impressive when you consider instrumental first team players CCV, Jota and GG weren't signed until the final day of the summer transfer window, well after the league and European campaigns had begun and the first Derby match of the season had been played.
Furthermore, optimism for the coming season is heightened when Ange himself stated at the recent SFWA awards night,
"LOOK, WE HAVE TO BE BETTER NEXT YEAR, IRRESPECTIVE OF HOW WE'VE BEEN THIS YEAR. BUT THE WAY I WANT TEAMS TO PLAY AND THE WHOLE TRAINING PROCESS, IT TAKES A WHILE FOR PEOPLE TO GEL"
All in all, it's fair to say that the good times are back at Paradise and they're only just beginning. My advice to my fellow Celtic supporters over the coming days is, regardless of how results for other teams may go and what our rivals may or may not achieve, don't let external factors detract from what has been achieved in such a short space of time at our club.
Indeed, if you'd told me at the start of the season when we were playing Dane Murray (in his first and only professional start to date) and Stephen Welsh (no disrespect intended, I actually quite rate both lads) together in an must win away leg of a Champions League qualifier that we'd end the season win a League and Cup Double, I would've had my doubts…
So today and for the remainder of the summer break let's focus on our own outstanding achievements this season. As Big Ange himself put it as we trailed the then league leaders by 4 points back in October 2021, we run our own race! In Season 2022/23 the Champions will be back bigger and better, until then savour this year's success, as its been well earned!
---