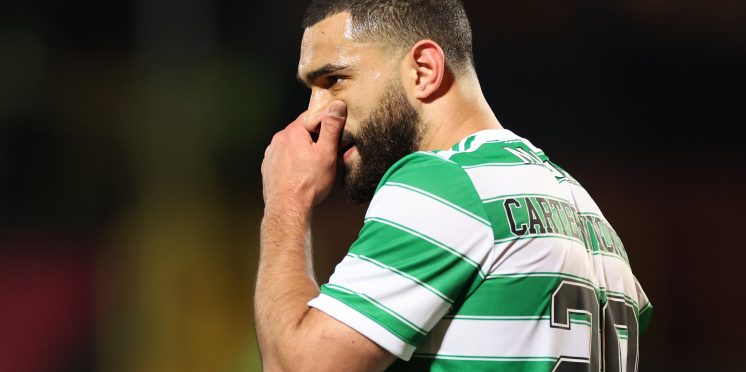 Celtic Are Still Top Contenders For Carter-Vickers
Cameron Carter-Vickers has stated that he wants to find a 'permanent' home next season and that he is ready to leave Tottenham Hotspur.
Carter-Vickers has been with Tottenham Hotspur since he was 12 years old, so electing to leave the English Premier League club is a big one. In fact, it has the power to define your career, for better or worse.
He recognises that he's at a crossroads in his career, but he's now prepared to confess that he has to find a new football home.
The defender remarked in an interview with The Scottish Sun today:
"I have really enjoyed it at Celtic. We were good to watch and an enjoyable team to play in. I am 24 now and want to be somewhere where I can settle for a few years.

"Me and my agent have been talking to the club throughout the season about what's going to happen at the end of the season. But obviously, it's not just my decision. Celtic have to come to some kind of agreement with Tottenham so it's not completely in my hands. I just want to be somewhere playing football. If I'm being completely honest, I think it's time to move on permanently. I'm happy with last season. I really enjoyed my time there.

"But what will happen in the future? I'm not too sure. Will I go back? You never know. I just want to be somewhere where I enjoy my football and get on with the manager. The manager at Celtic is a top manager who wants to play out of the back and keep possession, which suits me."
Carter-Vickers understands that he has alternatives. In his first media appearance following the season, he'd be foolish to put all his eggs in the Celtic basket. That's where his statements about "you never know" come from. In football, nothing is verified until it is confirmed.
However, it's difficult to imagine anything other than Celtic as the frontrunner for his signing. Consider what he values: a club where he can develop, a location where he can play on a regular basis, and a manager he can trust. Celtic checks all of these boxes.
Carter-Vickers is expected to play for Celtic next season if Celtic and Spurs reach an agreement – which might involve more than just a cash and could include deal structure and add-ons.
---