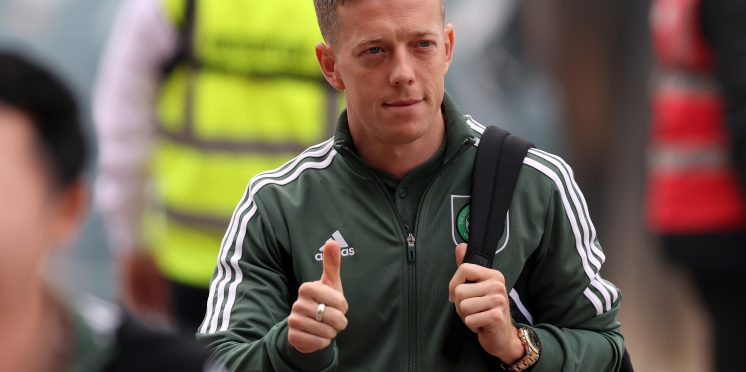 Celtic Captain McGregor Heaps Praise On Star Man
After James Forrest scored his 100th goal for the team over the weekend, Celtic captain Callum McGregor was all praise for the fellow academy alum.
While McGregor is now sidelined for the Scottish champions, it was heartening to see the 29-year-old make an appearance and talk about his colleague James Forrest.
Both are excellent role models for new Celtic players rising through the ranks since they have a plethora of experience at the club.
They have constantly displayed the highest degree of professionalism, which has allowed them to play at a high level and be selected by several Celtic coaches during their tenure at the club.
Even if Callum McGregor is still present at Lennoxtown and is injured, it is crucial to have someone in the locker room like Forrest who has been around for 12 years and has experienced everything since making his Celtic debut.
"I THINK IF YOU HAD TO DREAM UP A SCENARIO [TO GET HIS 100TH GOAL], THEN THAT WOULD'VE BEEN IT.
SUPER, SUPER PLAYER – HE HAS BEEN FOR MANY YEARS. I PROBABLY TOUCH ON THAT A LITTLE BIT IN THE BOOK AS WELL. HIS CONSISTENCY LEVELS OVER A PERIOD OF TIME AT THIS CLUB TO KEEP PERFORMING, KEEP SCORING GOALS AND KEEP GETTING ASSISTS. CONTINUALLY PUTTING YOURSELF OUT THERE AND GIVING YOUR ABSOLUTE ALL FOR THE CLUB.
"THERE PROBABLY WASN'T ANYBODY HAPPIER THAN ME WHEN HE HIT THAT HAT-TRICK AT THE WEEKEND AND HE'S A SPECIAL, SPECIAL PLAYER. ONE OF 30 AT THIS CLUB THAT HAVE DONE IT AND YOU THINK OF THE NAMES THAT HE'S IN GOOD COMPANY WITH THERE AS WELL AND YOU THINK OF THE AMOUNT OF PLAYERS WHO HAVE PLAYED FOR THIS CLUB, TO BE IN THAT CATEGORY IS SOMETHING REALLY SPECIAL."
The publication of Callum McGregor's book this month will provide readers with a greater understanding of the Celtic captain, who we hope will make a speedy recovery from his injury. McGregor is anticipated to be available following the World Cup.
---