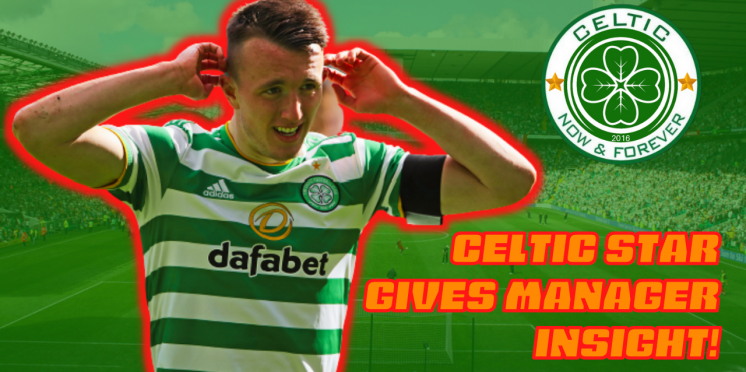 Celtic Fan Favourite Gives Insight On New Boss
Celtic midfielder David Turnbull has given fans an insight into what new boss Ange Postecoglou wants from his players as he tries to persuade them to adopt his style of play.
Turnbull highlighted the expectations that the 55-year-old places on his players to win the ball back as soon as they lose it, according to the Herald, and feels that this approach would fit him perfectly.
SKED IF HE HAD ENJOYED WORKING UNDER POSTECOGLOU, TURNBULL SAID: "YEAH, HE IS A DIFFERENT FACE, AND HE HAS BEEN BRILLIANT SINCE HE CAME IN. HE HAS WELCOMED US ALL AND BROUGHT HIS STYLE OF PLAY TO THE TEAM AND IS JUST TRYING TO BRING THAT INTO THE GAMES. IT'S BEEN GREAT.

"I THINK HIS STYLE OF PLAY WILL SUIT ME. HE ALWAYS SAYS THAT ONCE WE GET INTO THE FINAL THIRD, WE NEED TO JUST GO AND EXPRESS OURSELVES AND NOT WORRY ABOUT MAKING MISTAKES.

"AS YOU LONG AS YOU HAVE A GOOD REACTION WHEN WE LOSE THE BALL, TO GO AND WIN IT STRAIGHT BACK, THAT'S WHAT HE IS LOOKING FOR. I THINK THAT'S GOOD TO HEAR FOR ANY ATTACKING PLAYER.'

"HE WANTS US TO WORK HARD, BUT THAT'S JUST SOMETHING YOU NEED TO DO FOR THE TEAM. MAYBE NOT ALL THE BOYS ENJOY IT QUITE SO MUCH, BUT IT'S A TEAM GAME. IF EVERYBODY STICKS TO THE PLAN, IT WILL HOPEFULLY WORK IN THE END."
Some Celtic fans have been pleasantly pleased by the quality of the football on show and how fast the message has reached the players in the team in the first two pre-season games.
Athletes like Turnbull seem to believe it, and it has the potential to be a thrilling game at times.
The 22-year-old is in his second season at Celtic, and following a strong personal campaign last season, he will be hoping to add to his player of the year awards from the previous year.
In his fresh look, free-flowing side, Postecoglou should be able to get the best out of the attacking midfielder.
---