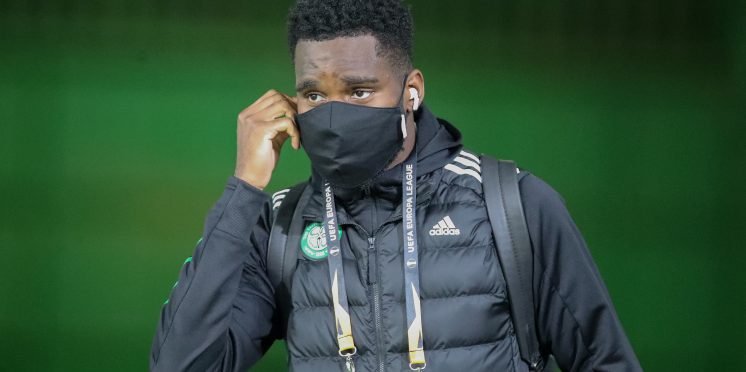 Celtic Fans Blast "Frustrating" Edouard Online
Celtic fans are not holding back in regards to dishing out criticism as Odsonne Edouard has taken some flack online after the club suffered their third home defeat in a row.
The Hoops completely fell apart for a third time in a row at Parkhead this season and the full squad and managerial staff are to blame fully.
The Frenchman is very rarely in the firing line amongst the Celtic support but this season has seen a very relaxed Odsonne Edouard and sometimes it looks like he can't be bothered anymore.
We understand that Edouard had tested positive for Covid-19 last month and just maybe he's still recovering but at the same time the Celtic club doctors have deemed him fit to play.
The French talent remained a Celtic player beyond the last transfer window as many fans thought the club would cash in on their top asset.
It remains to be seen so far if Celtic were correct to keep him at the club and fans have responded online.
Don't seem interested we should a got good money & replaced him with Toney if he really wanted to go 🍀

— celtic jaime 🍀 (official account) (@jaimelawson08) November 5, 2020
Absolutely. Looks as though he doesn't give a fuck.

— Ped (@PEDN341) November 6, 2020
You wonder if lenny. Lost the dressing room when he suggested platers don't want to be there, playing like it. Eddy doesn't want to be here

— james (@jamierae1995) November 5, 2020
💯 chucked it, id start Griffiths before him ' and another question is why pay 3 million for a young bhoy at top of his game before he arrived, to then not play him and continue with the midfielder's we have been is really hard to believe at moment 🤔.

— John Smith (@JohnSmi91886215) November 6, 2020
Yes 💯, he's had covid but his form was terrible way before that

— Steven 🏴󠁧󠁢󠁳󠁣󠁴󠁿🇪🇺 (@Steviebarry89) November 5, 2020
---