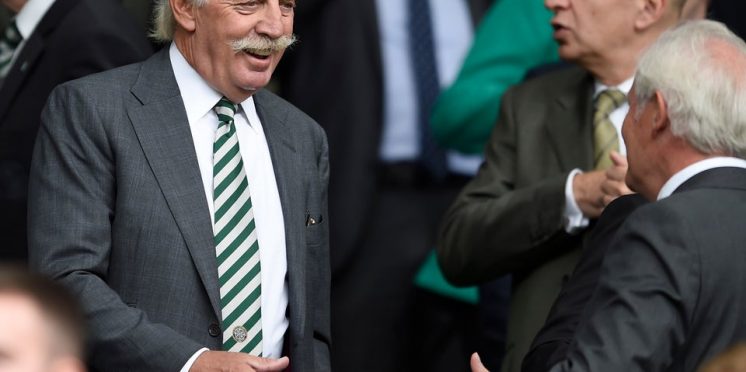 Celtic Manager Makes Interesting Claim About Hierarchy
Neil lennon has confirmed in a recent interview that Celtic's majority shareholder Dermot Desmond still has a finger on the pulse of the club and regularly talks with the Hoops manager.
Its fantastic to hear that Celtic's majority shareholder Dermot Desmond still has a main role at the club and doesn't just hide in the background. Desmond is the club's main money man and has been for quite some time, Lennon seems to have a good relationship with the Hoops hierarchy and that's always a bonus for any gaffer.
Lennon has spoken about the fact that Desmond speaks with him before games and is always on the phone with him after most wins or defeats to offer praise or ways we can change for the next game.
"It is great to have Dermot's backing. He's been so good to me, and for me." Lennon told SunSport.
"We do talk on a regular basis, so he's got his finger on the pulse of the club and the team.
"We talk at length the day before a game or we analyse the game now and again.
"He made it clear and we didn't shy away from it, that he didn't think the performance against Ross County was good. If you are open and honest with Dermot and straight, you get rewarded for that.
"He's a very intelligent man and he's done unbelievable things for the club.
"If you have him as a support or an ear then it gives you a lot of comfort, particularly in a heavily pressurised job like this."
"And that has been forged over a long time. I've been at the club for 20 years.
"I was manager here for four years in my first period and now I'm into my third season.
"It's not as if there's a comfort there, he keeps you on your toes.
"He likes high standards and he likes high standards of performance from the players and staff.
"He doesn't make unrealistic demands of you or unrealistic expectations.
"If you go through a bad period he's the first one to pick up the phone and talk to you and support you and, likewise, when we have great results he's there to congratulate you.
"If there's something that he's not happy with then we talk it through and look to improve on it."
The Scottish Champions have a vital chance to go top of the league today if we managed to beat Livingston. In the last 4 or 5 games between both sets of clubs, Celtic have found it difficult to get the job done.
This is why games like these will be on paper a laboured 1-0/2-1 win, just to get those three points on the table and apply some pressure on Rangers for the first time this season as that's were Gerrard's weakness seems to lie from previous years.
---