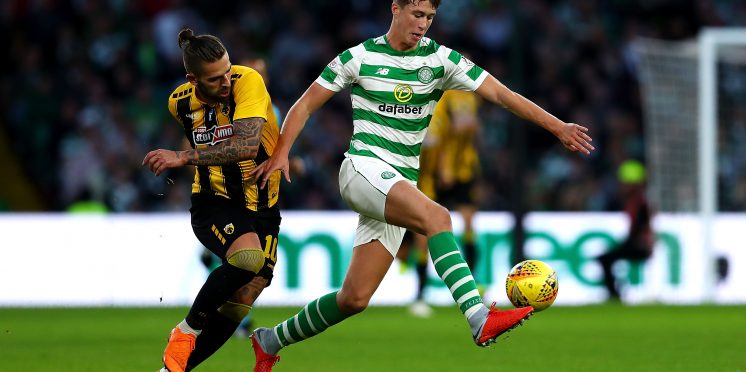 Celtic Outcast Flying High | Makes Professional Return Claim
Celtic outcast Jack Hendry makes a very professional admission regarding a possible return to Neil Lennon's squad set-up, the defender is thriving on loan with Belgian side Oostende.
It's actually quite funny to see a player who was slaughtered by our support for doing the kind of stuff that Shane Duffy is doing now in his prime.
The 25-year-old was a main player at the beginning of the Brendan Rodgers era and many mistakes later Hendry was ultimately dropped and sent out on loan.
Maybe Brendan was right in his thinking that there was a decent defender inside Jack Hendry waiting to come out.
Oostende have currently kept three clean-sheets in a row and Hendry has also chipped in with a match-winner, it's clear to see that a move to Belgium has had a huge impact on the 25-year-olds career.
Here's what Jack Hendry had to say regarding a possible return to the Celtic squad.
"I don't know, I'm here for a year so there is still a bit of time before I would go back, if I did go back. It's something you'd have to ask the gaffer.

"Those things outwith my control but all I need to do is continue to play well and at a good level and if I do then those things will take care of itself. I need to perform on the pitch for those things to be talked about anyway."
He also gives his opinion that Celtic will turn things around regarding their recent run of bad form.
He added: "It's unfortunate Celtic have picked up a few defeats recently, but I'm sure the boys in that set up will turn it around.

"I believe in them, they are all good players and from when I've been at the club, I couldn't speak highly enough of them. They are all top European players and they're just going through a bad moment just now.  

"They've won nine titles in a row, so they've deserved that, and they've broken some unbelievable records which haven't been done in world football before.

"They've still got the main core of players there so I think if there was anyone to turn it around it would be that group of boys, so fingers crossed they can do it."
The Hoops player has come under fire at Celtic regarding his past performances and many were glad he moved out on loan, Hendry agrees that everyone is entitled to their opinion and he's big enough to handle it.
He said: "I suppose criticism is just part and parcel of football and when you play for such a big club like Celtic, you're under the microscope constantly. It's just about learning to deal with it and becoming a better person at the end of it.

"Obviously, there is a worldwide fan base at Celtic and they've got such high expectations and sometimes if you drop below that bar then you will come in the firing line.

"It's just something you've got to deal with when you play for a club like Celtic and everyone is entitled to their own opinion, but from a personal point of view I've got no harsh feelings towards anyone and they're allowed to voice their opinion." 
At this stage in the season, Celtic could do with all the help they can get and even though it's probably rather crazy to say, I'd be open for the board terminating Jack Hendry's loan deal and bringing him back to the squad, he can't be worse than we have now.
And before anyone goes mental, I'm not saying that he should be a first-team player just that he'd be useful to Neil Lennon until late January and you never know, Jack Hendry could become a different player for Celtic and his form backs this statement.
---