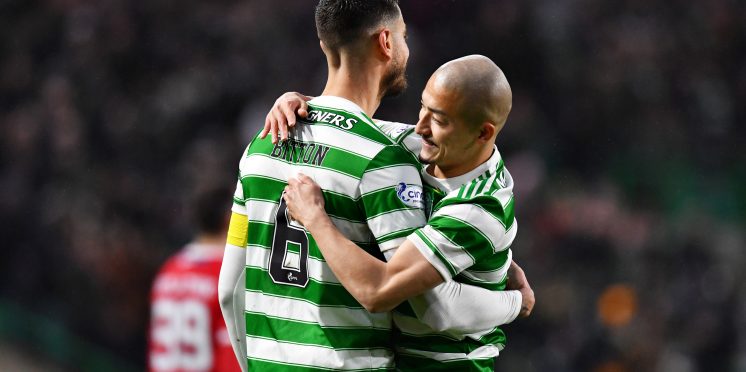 Celtic Star Reveals He's No Longer Contracted To The Club
Nir Bitton has acknowledged that he is a free agent, implying that the club has discharged him.
After nine years at Celtic, the midfielder who was signed by Neil Lennon confirmed his departure.
On Saturday, the midfielder helped Tom Rogic in carrying the trophy from the tunnel to the platform. Both players showed their feelings throughout the game, giving the leaving partnership an emotional send-off.
Bitton revealed in an interview that he wants to join one of the finest clubs in their nation, but he seemed to rule out a return to Israel, saying:
"I DO NOT FEEL FULL, I THINK MY HUNGER ONLY GROWS WITH TIME.

"I WANT TO PLAY IN A CLUB THAT TAKES CHAMPIONSHIPS AND FIGHTS FOR TITLES, OF COURSE. I HAVE A LOT MORE TO CONTRIBUTE.

"THE DESIRE RIGHT NOW IS TO CONTINUE MY EUROPEAN CAREER OVERSEAS, BUT I DO NOT RULE ANYTHING OUT, WE WILL TAKE THE SUMMER AND MAKE A DECISION TOGETHER."
He went on to explain that his contract had been cancelled and that he was now a free agent, saying:
"I WAS ALWAYS TAUGHT TO LISTEN TO OFFERS AND NOT SAY NO.
"I'M NOW A FREE AGENT AND I DO NOT KNOW HOW IT FEELS, WE WILL SEE WHAT THE PLANS ARE WITH THE WIFE AND CHILDREN AND WE WILL MAKE THE BEST DECISION FOR ALL OF US."
Both players had their ups and downs at Celtic, but they will be remembered for the 34 titles they shared.
Their time at Celtic has come to an end, signalling the start of a new era for the club.
---