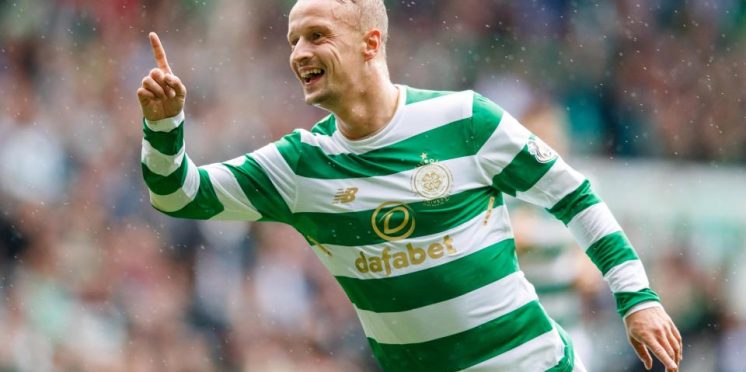 Celtic Striker Must Find "Desire" States Former Player
Shaun Maloney has stated that Leigh Griffiths must look within himself and find that desire to fight for a first team place in Celtic's 10 in a row squad and the former Scotland midfielder has insisted that there's still time for Griff to correct his wrongs.
Maloney knows exactly what its like being a Celtic player and the high expectations that come with the role, but just like the Hoops support, Maloney knows that Griffiths still has a chance to prove the doubters wrong yet again.
The 37 year old is now assisting Roberto Martinez in coaching the Belgium national team and has previously been a team mate of Leigh Griffiths, Shaun knows that in todays footballing world its hard to keep things behind closed doors with the amount of technology and social media platforms there are.
Only Lennon and Griffiths will know the full story of what's been happening between the pair and Lennon has already expressed his disappointment at the striker not sticking to his fitness regime during lockdown.
The Hoops striker came back to base a little out of shape and Lennon had to show Leigh that he can't do less than others but still be apart of the squad, so Griffiths wasn't selected to go to pre-season in France and we think Lennon made the correct decision.
Every single player must have the same level of work ethic as it would cause an unrest between the squad if the management don't punish those who slack.
"Leigh has to find the motivation to fight for a spot," said Maloney.

"He has to want to be that striker they go to with Odsonne. The motivation has to be there.

"Klimala scored last night. He came in in January and he's worked incredibly hard during the break. It's another person's opportunity. That's what happens in team sports. Things don't wait."
"It's not a good situation but I'm sure there's more to it than what we know," the 37-year-old told the Scottish football podcast.

"You read the quotes and you can see how disappointed his manager is. Nowadays with the apps and the programmes they know exactly what the players are doing during lockdown.

"The players all have to do the same amount of work so that would be the biggest disappointment if a team-mate is doing less than you.

"The ball is in his court so hopefully he comes back in a better condition. He's got time to rectify it."
https://www.celticnewsnow.com/news/celtic-striker-must-find-desire-states-former-player/347609/?latest
---