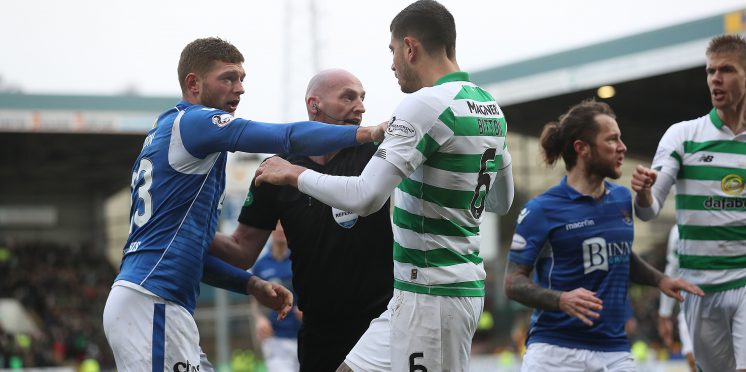 Celtic's Bitton Countdown Begins | Will He Be Ready?
Nir Bitton was in the middle of a battle between club and country last week as the versatile star limped off injured during Celtic's win against Sarajevo.
The Hoops star was chosen to play for his country Israel and did indeed manage to play 120 minutes against Scotland, the defender even scored his penalty.
However, Neil Lennon didn't want Bitton to leave Glasgow as Celtic have a very important match against Sevco next Saturday which Bitton would be badly needed.
Celtic were right to challenge the calling up of Nir Bitton as it was reported that the star could be out for upto 3 weeks with his severe ankle injury.
Despite this injury, Bitton miraculously managed to play an important role for his nation in their EURO qualifiers against Scotland.
The experienced Hoops player has confessed that his injury was indeed quite bad last week and he feared the worst, but somehow the Israeli medical team managed to prepare him to play.
Bitton stated:
"I twisted my ankle very badly away in Bosnia and I didn't believe I could make it. On the way back home on Friday I was on crutches, I was in a wheelchair and I couldn't even walk on the foot.

"But I wasn't going to rule myself out of the game until I knew that I couldn't play.

"I never give up, I always try to push myself to the limit, but, to be honest, the medical staff did an unbelievable job, they treated me like their child with treatment three times a day.

"I played this game only because of them and I understand the frustration of Celtic. I was glad I made it, but it is a bit frustrating now."
Nir Bitton then went on to say that he never spoke to Neil Lennon leading upto his departure as is was a debate between both clubs.
"I didn't speak to him. It was between the national team and Celtic. But for my side, I always told Celtic that I was going to give it a chance and obviously if I didn't feel good I wouldn't play.

"But on Tuesday, I felt okay at training, on Wednesday I felt better and on Thursday morning I told the gaffer that I wanted to play.

"With all the adrenaline around the game and around the occasion you don't feel anything. I feel it now, though."
The main thought on Lennon's mind will be if Bitton can be fit enough to play against Sevco after after such a strenuous game against Scotland.
The Hoops star has a wealth of experience that could be used against Sevco even more so now that we have a trio of stars that cannot play.
---