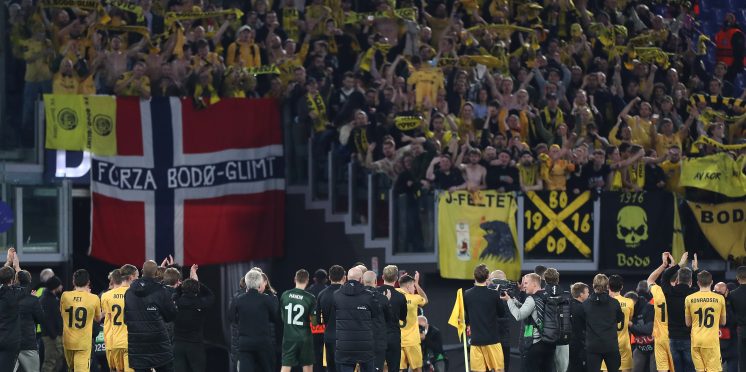 Celtic's Euro Opponents Begin Rebuild After Many Key Departures
After confirming the acquisition of Norwegian striker Runar Espejord, Bodo/Glimt have found a successor for Erik Botheim.
Celtic's Europa Conference League opponents have been shocked by a slew of big-name departures this summer. One of them is top scorer Botheim, who joined Krasnodar in Russia at the conclusion of last year.
For manager Kjetil Knutsen, the focus now is on rebuilding. He's also managed to recruit former Herenveen talisman Espejord as Botheim's successor.
According to Bodo/Glimt, their new acquisition will be available and ready to play against Celtic next month. The game will be the champions of Norway's next competitive match.
Espejord joins the team after spending the previous season on loan with Tromso, where he began his career. Over the course of his two stints with the Norwegian team, Espejord scored 30 goals in 130 appearances. However, he failed to score in eight appearances for Herenveen.
As a result, it's an intriguing addition ahead of the game against Celtic. In terms of stats, he doesn't appear to be a good enough substitute for Botheim. Knutsen, on the other hand, has created a reputation for himself by reconstructing teams in his image and getting the most out of his players.
As a result, the rebuilding in Norway continues as they prepare for the Celtic showdown and continue to catch the continent's interest.
The fact is that this isn't the same Bodo/Glimt team that thrashed Roma. Their offensive threats from the group stages have all but vanished, and fresh players are now being called upon to take their place.
Of course, Celtic cannot overlook Espejord's signing. It would be foolish to base his decision just on his goal return. He's still a muscular presence who will try to unsettle Celtic's backline, especially in Norway, where the atmosphere might be hostile.
But it's impossible to deny that Bodo/Glimt are already looking lot weaker than they were a month ago. It's improbable that they'll all be up to speed by next month, given the nature of the maintenance they're getting this winter.
For the next edition of the Europa Conference League, UEFA will only allow teams to register three new players. That means they won't be able to use everyone they bring in this winter against the Hoops. Knutsen had to make an intriguing decision.
Celtic, on the other hand, cannot afford to take anyone lightly. And we should expect a tenacious struggle from our Norwegian opponents in the game next month.
---