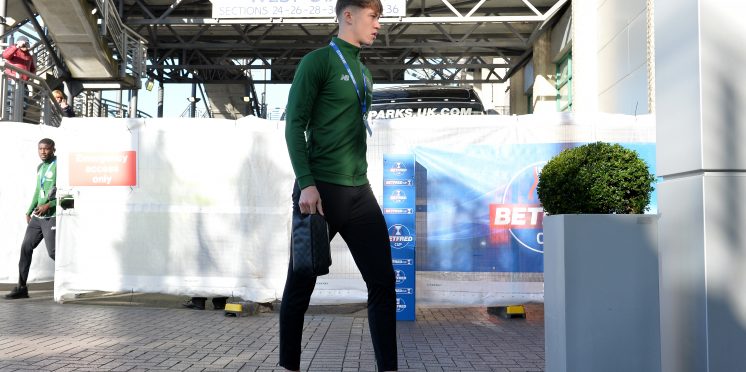 Celtic's High Flying Fringe Player Opens Up On Past And Current Chances
Jack Hendry has been speaking about his Celtic future, admitting that he has been disappointed with a shortage of prospects under Neil Lennon.
In the summer, Hendry was loaned to Belgian side Oostende in the hopes of reviving his career. To be honest to the huge centre-back, he has achieved just that. He's made 22 starts for his loan club, which is just five fewer than he made in three years at Celtic since being signed by Brendan Rodgers.
And his departure came after Neil Lennon gave him zero chances to impress. Indeed, during his tenure as Celtic boss, the former manager just gave Hendry 11 minutes to impress. Partick Thistle were the opponents in a single Betfred Cup match.
Hendry is being associated with a transfer to the Premier League at the moment. And, in an interview with the BBC, he talked about his frustrations with Lennon as well as his hopes for the future.
"I'm open to anything that comes my way. It's vital that wherever I choose next season, I need to play every week to continue my development. If Celtic want to keep me, that's something they would need to make a decision on.

"It's frustrating that I was never given the opportunity to show what I could do [under Lennon]. The way I'm performing, I could have a real good impact and it's not been nice seeing the way the season has panned out for them.

"I needed to hit the reset button. Oostende really wanted me. They finished low down the league last season but I felt I could have a good impact. Thankfully it is paying off."
It's quick to forget that Hendry is just 25 years old. He has so many years of growth left in him, and while now is the time for him to prove what he's made of, no one can deny that he has longevity.
Every current potential Celtic boss should take a peek at Hendry. It's only fair that the Celtics assess how much he's progressed in Belgium this season. For all we know, he might be more than what we already have.
It's critical to keep in mind the purpose of loan movements. It's to support talented players or marginal players receive playing time during the season in order to boost or raise their appeal.
---