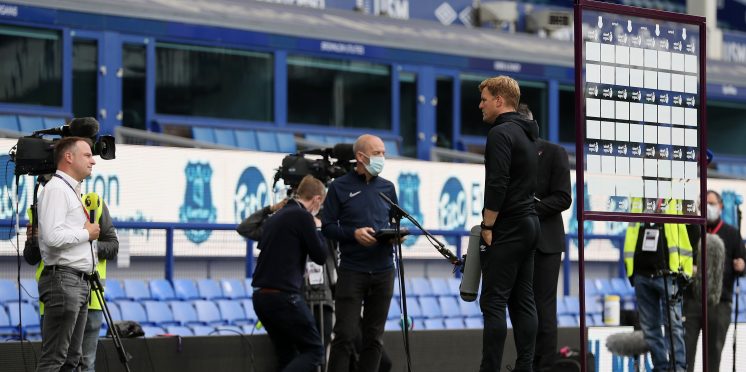 Celtic's Reason For Howe Silence As Club Fear Fan Backlash
The original Eddie Howe to Celtic chatter that emerged as heavy rumours about his possible appointment began to circulate has been replaced by a lack of enthusiasm among the supporters.
Celtic have a habit of dragging things out, and people are understandably curious as to what is going on. They aren't the only ones who are curious about what is preventing a settlement from being reached.
Celtic, according to Alan Stubbs, have put themselves in a compromising situation as a result of their public involvement in Howe.
Howe has all the aces, according to the former Celtic defender, while Celtic have put all their hopes into one man.
Stubbs stated:
"EDDIE HOWE'S IN A REALLY STRONG POSITION BECAUSE HE'S HOLDING ALL THE ACES" STUBBS TOLD THE HUDDLE PODCAST.

"FROM CELTIC'S POINT OF VIEW, IT LOOKS LIKE THEY'VE PUT ALL THEIR EGGS IN ONE BASKET

"IF I WAS DOMINIC MCKAY OR DERMOT DESMOND, I'D BE QUITE NERVOUS RIGHT NOW.

OBVIOUSLY, IT'S OUT THERE IN THE PUBLIC THAT EDDIE HOWE IS THEIR NUMBER ONE CHOICE AND IF THIS DOESN'T HAPPEN THEN THE NEXT PERSON WHO COMES IN, THE FIRST QUESTION WILL BE 'HOW DO YOU FEEL THAT YOU WEREN'T NUMBER ONE CHOICE?'"
Provided that Celtic's first game of next season is three months away, time is of the essence. Although we want the best guy in charge, we can't afford to wait any longer to find out what will happen next.
The longer this goes on, the less likely it is that season ticket renewals will be affected. Since the SPFL and Sky Sports reached an agreement on subscription for next season, the club is now in a position to send out renewals.
Celtic are clearly going quite on the manager front just incase Howe decides to move elsewhere and that would make fans even more angry with the board than they already are.
---