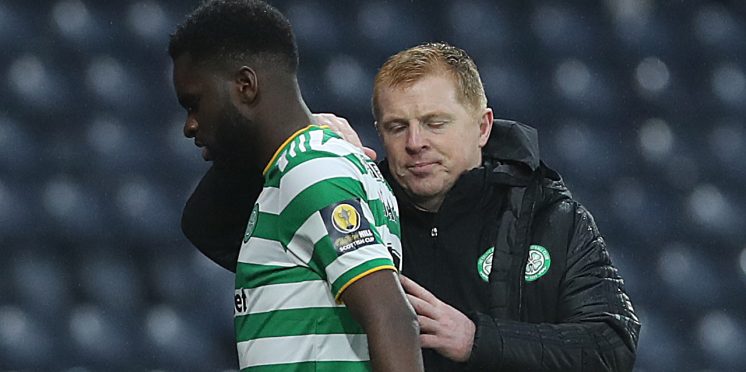 Celtic's Star Player A Mere Shadow: Can Edouard Bounce Back?
When we look back at Celtic's lasted transfer window, it was deemed as very successful and worthy of a club going for 10 in a row.
Every fan including myself felt as if Neil Lennon was backed in his quest to lift the holy grail of domestic football.
Not only did we strengthen the squad, but we also managed to keep all of our key players and stop them being sold to other clubs, Neil Lennon would still have the services of Kris Ajer and Odsonne Edouard which would have been critical to our long and gruelling season ahead.
In reality, the club could have potentially blocked certain players from leaving who wanted to part ways with Celtic and Neil Lennon.
Odsonne Edouard has become a shadow of the player we all know he can be, the striker has lost his edge in recent matches that can clearly be seen by Neil Lennon and the fanbase.
We all know Odsonne Edouard has dreams of playing in a much more lucrative league and that's fine, every player's dream is to one day play with the big boys but you must perform consistently for you current club no matter what.
The Frenchman managed to score a few whilst on international duty but seems out of place while playing under Neil Lennon this season.
And you know what, it's not just Edouard as the full squad seem lost out there on the pitch, we have seen slight notions of that 9 in a row winning team but nowhere near enough.
We do not know what's really going on behind closed doors at Celtic Park but these players are damaging their own reputations that they have spent time gaining over the last few years and worse, the club's rep also.
The only player that seems to be trying in every game is Diego Laxalt, the AC Milan loanee has been outstanding in some of the games despite Celtic losing, however, he is still a player of Milan's and Celtic would have to pay decent money if they wish to permanently sign the wing-back.
What's The Answer?
To be honest, there could be a few outcomes that will arise over the next few months.
Although the Celtic board have given Lennon their backing on two occasions now, no manager can survive a further run of bad form especially one who MUST win the league title, minimum.
Or Celtic could very well start to rack those points and a win against Rangers could put Neil Lennon in a much more engaging position, with that and a decent January transfer window the club could fight their way into the driving seat.
It's still a huge task, do you think it can be done?
---