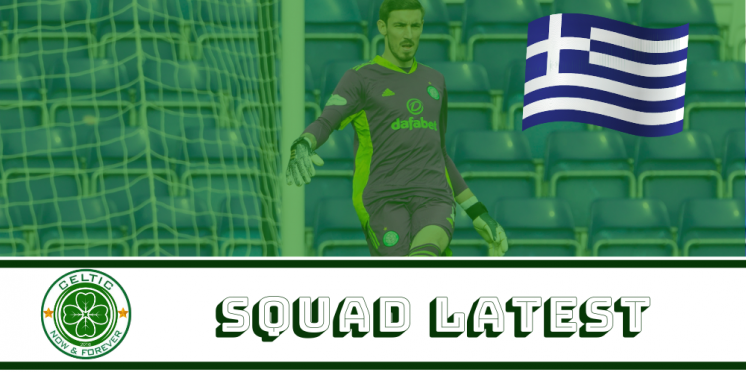 Celtic's Super Greek Keeper Reacts!
Vasilis Barkas has proved some of the Celtic support wrong and had served up a brilliant performance during the Scottish Champion's 5-0 win against Ross County, the big Greek keeper managed to keep a vital clean sheet.
Many fans had their doubts on Celtic's £4.5 million signing as we were spoiled last season with Fraser Forster and his outstanding season performance, the Englishman returned to Southampton and rejected a Hoops return.
When Barkas arrived from AEK Athens there were many who didn't know what Celtic had bought in terms of his ability.
However, Barkas hasn't really put a foot wrong and the goals conceded against Ferencvaros in Celtic's Champions League defeat were not his doing, the big Greek goalie had gotten some strange criticism from Kris Commons and other pundits that was unnecessary.
The keeper has now set the media straight after producing some vital saves during Celtic's win against Ross County as on paper it was a thrashing but things could have been different if Barkas hadn't been able to produce those stops.
The keeper spoke to the media:
"We're going to become better the more we find ourselves on the field and get used to each other. We need to have some time because we are eleven different people who started. Maybe some of the other players who were involved have played together in the past but not all of us at the same time.
"All of my team-mates are very good players and I am very happy for this because when you go into a big club, you like to see big players with big talent," Barkas said, as reported by media. "At the same time, they all work so hard in training each day and you can then see that in the games. We are waiting to have a lot of wins and to take the championship again."
On his outstanding display against the Highlanders, Barkas delivered exactly what we asked for. "I always feel good when I do my job. My job is to keep clean sheets so when I manage to do that it makes me feel as though I am helping the team.
"It was not so easy for me because I was coming from another country and the football here is different. Game by game, I feel that it gets better but I'm sure I need more time to see what Scottish football wants from me.
"I tried to find what the coach and my team-mates want from me and with every game I start to feel better and better. There is more heart here amongst the players.
"Also things like a lot of the matches have rain, so the pitches are faster and that is something which you have to adjust to. These are things you start to find out, so that's why I say that game by game I can get better because I will get more used to the different situations," the Celtic goalie continued.
"I don't put pressure on myself. I came from a big club in Greece and I know that Celtic is one of the biggest clubs in the world, so we want to win every game.
"Sometimes we might not play as well but every match is special in that at Celtic you just have to win them. Okay, there are a lot of games at Celtic when I might not have something to do or I might not have so much to do.
"That's because I have good players in front of me but I still have to be focused all of the time and keep speaking with them. Even if I have lots to do or not lots to do, I have to keep that focus all of the time."
---