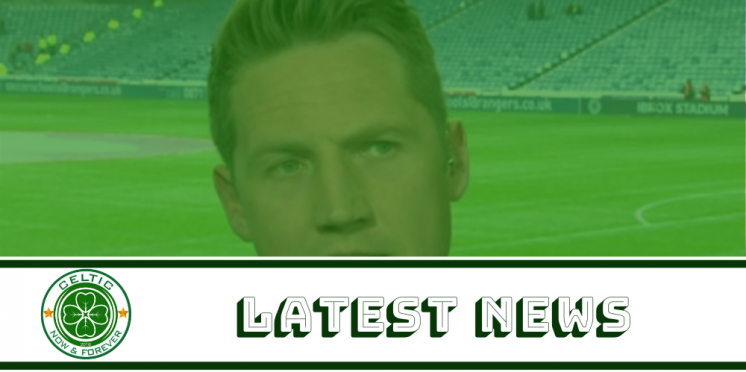 Common's Spouting More Nonsense Regarding Celtic!
St Mirren were faced with the task of having to play their league match despite having no first team keepers available due to Covid-19 issues, the Paisley club were forced to make an emergency loan plea to Championship club Hearts for cover, Kris Commons has suggested that if it was either Celtic or Rangers in this position things would have been handled differently.
The former Celtic player and now pundit feels the need to regularly hit out with controversial views on issues just to gain some attention, similar to his pal Kris Boyd.
The pundit believes that if it was Celtic in that unfair position, the SFA would simply postpone the match as making either of Celtic or Ranger play an outfield player in goals would cause carnage.
St Mirren were forced to make an emergency loan request to Hearts and gain the service of goalkeeper Bobby Zlamal.
We understand that its unfair and the club and fans most likely felt hard-done-by but at the same time we can't keep postponing games due to positive testing of players as the league simply won't get to the finish line.
The Paisley club weren't prepared for that scenario and were the first to deal with it, now the rest of Scottish Football including Celtic will start making arrangements just incase it does happen to them.
Common's said:
"CAN YOU IMAGINE IF WE HAD AN OLD FIRM GAME, WITH THE LEAGUE ON THE LINE IN ONE OF THE LAST MATCHES OF THE PREMIERSHIP SEASON, AND THE VERY SAME SITUATION AS HAPPENED TO ST MIRREN OCCURRED AT LENNOXTOWN?"
"IMAGINE THE SPFL SAID TO CELTIC: 'YOU'VE GOT NO GOALKEEPERS. YOU'VE JUST GOT TO GET ON WITH IT. DEAL WITH IT.' IF CELTIC HAD TO FACE RANGERS WITH, SAY, JAMES FORREST IN GOALS, THERE WOULD BE CARNAGE. LET'S NOT PRETEND OTHERWISE."
"BUT IT WOULDN'T EVEN GET TO THAT STAGE BECAUSE, 100 PER CENT, THE LEAGUE WOULD POSTPONE THE GAME. IF THEY DIDN'T, THERE WOULD BE UPROAR."
---