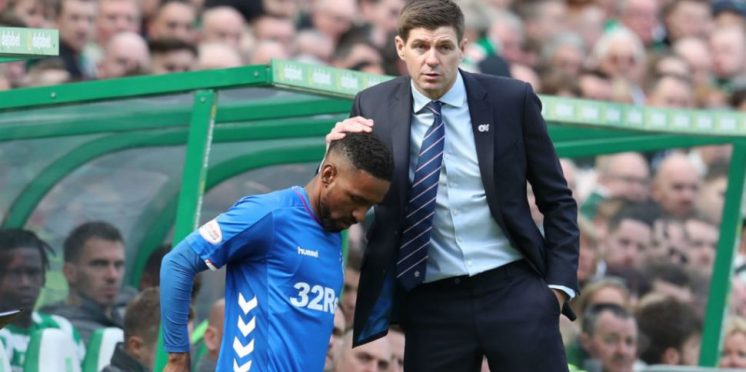 Deluded Defoe With "Best In Europe" And "unbelievable talent" Sevco Claims
So it looks like auld Jermain Defoe has drawn the short straw this season and has been named as Sevco poster boy and nominated garbage talker as the former EPL old-timer has stated that Rangers can win the league this season if they just believe.
The 37-year-old has scored 25 goals in 52 appearances since arriving at Ibrox in January 2019, but has been unable to secure any silverware in that time and now it looks likely that he will be the main man this season for Sevco in regards to rallying the Orcs.
Defoe wants his fellow Govan players to believe in themselves and not lose focus like they did last season oh and the others before that, it seems to be the same rubbish that gets said every single season but a different clown speaking the words.
The pensioner then goes on a long ramble to actually say that his squad could be the best in Europe at keeping possession, I mean come on Defoe, best in Europe but still can't win a single trophy.
There is literately too much deluded words to quote coming from this guys mouth, but here's the proof:
"Sometimes when I sit and look at the players and the squad we have, there is some unbelievable talent in that dressing room.

"We just need to believe we can do it this year.

We have to see what happens and learn from our mistakes.

"It is a massive season for everyone and the good thing is that everybody knows how big it is.

"I have sensed that in the pre-season and the training, how hard everyone is working and everybody is putting it in.

"We are trying to tick all the boxes.

"We have had loads of meetings with the gaffer and the staff looking at loads of videos where we can improve and where we went wrong.

"We don't want to make the same mistakes we made in the second half of the season.

"I look at the dressing room and I believe we can go all the way and compete in Europe as well.

 "In terms of keeping the ball we might be No.1 in Europe.

"The players need to take a lot from that because we are talking about Europe against some top teams, like Porto.

"We just need to bring that in the league because it is a massive season for us.

"Everybody wants to beat Rangers and the players who play against us want to play for Rangers so the games are tough.

"They come to Ibrox and are difficult to break down because they will block and frustrate us.
---