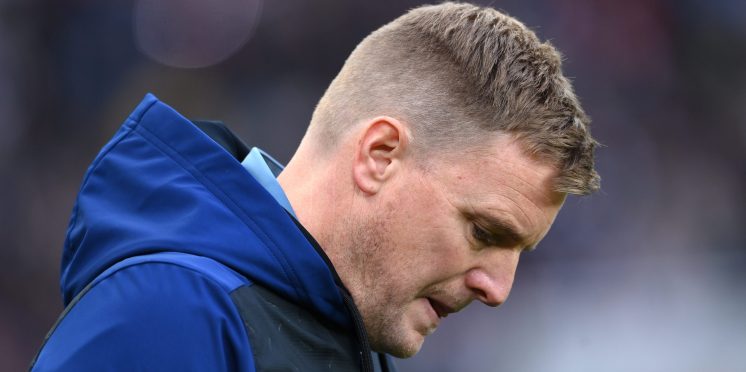 'Dodged a bullet' – ex-Celtic man blasts former managerial candidate
Former Celtic midfielder Kris Commons has blasted Newcastle United manager Eddie Howe, suggesting that Celtic 'dodged a bullet' by the Englishman not taking the reigns at Parkhead.
Cast your minds back to May 2021, Celtic are on the verge of ending the season trophyless for the first time since 2009/10 and the mood around the club is at an all-time low. Out of nowhere, former Bournemouth manager Eddie Howe is reportedly close to becoming the new manager at Celtic Park.
Of course, the deal famously then collapsed, paving the way for Ange Postecoglou to come into the picture and the rest is history.
Now at Newcastle, Howe has endured a tough start winning just one game since taking over. Last weekend, his struggling side was knocked out of the FA Cup at home to lowly Sky Bet League 1 side Cambridge United in what was a shock result.
Commons now believes that Celtic fans will be grateful they have Postecoglou in the dugout and not Howe. In a recent interview with the Scotsman, the 38-year-old said:
"Ange Postecoglou has gone in to Celtic without any of his own coaching or backroom staff and picked the club up off its knees.
"There are parallels to be drawn here. Some people will say that Howe inherited a basket case of a club and that he deserves more time to turn it around.
"They will argue that the squad left behind by Bruce was a mess and in dire need of improvement in near enough every department.
"Yet, you could say the exact same thing about Celtic last summer when Postecoglou walked through the door.
"In fact, I would actually argue that Celtic were in an even worse state last summer than Newcastle were when Howe took charge a couple of months ago.
"But Postecoglou has found a way of making it work.
"He has galvanised an entire football club and won the hearts of a fanbase which had become disillusioned.
"Celtic fans must now look back on the events of last year with a grin.
"As Howe toils to make any sort of impact at Newcastle, it looks like they dodged a bullet."
Though his views can sometimes be questionable, Commons hits the nail on the head
Undoubtedly, despite the millions available for him to spend in the North East, it doesn't look like Howe is turning around Newcastle's fortunes any time soon.
In order to make an impact at a club like Celtic, you need to be fully committed to the task at hand and invest yourself into the club physically and emotionally, something that he obviously wasn't willing to do.
Ange Postecoglou travelled to the other side of the world to manage Celtic, without any of his own backroom staff or family in the beginning to join him. He has raised spirits at the club and fostered an amazing relationship with the fanatical Hoops' support.
While Postecoglou looks to add to his trophy cabinet at Celtic after already winning the Premier Sports Cup, Howe will be looking over his shoulder as he tries to avoid a second Premier League relegation on the bounce.
---