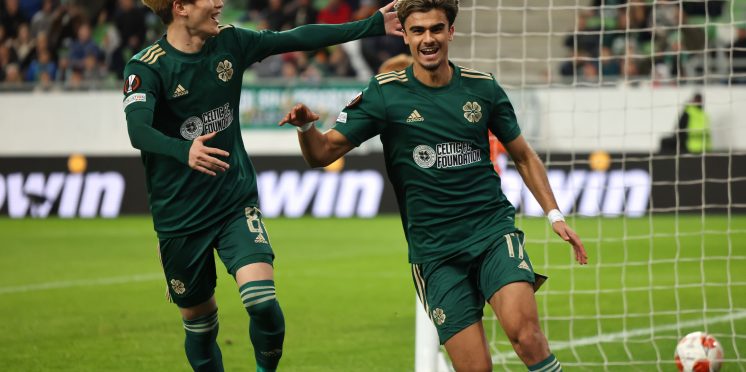 Ex Celtic Man Begs Club To Sign 22 Year Old Fan Favourite
Since joining the club on loan from Benfica on transfer deadline day, Jota has swiftly established himself in the Celtic team, which is thriving under Ange Postecoglou.
The 22-year-old scored twice in Sunday's 4-2 win against Dundee, bringing his season total to six goals and six assists in 14 appearances for the Hoops.
With the club holding an option to buy on the Portuguese winger, his performances have prompted calls from Celtic fans for him to be signed on a permanent basis as soon as feasible.
Former Celtic striker Darren Jackson agrees with such demands, urging the club to sign Jota now, before other clubs in Europe show an interest in him, considering his recent form both domestically and in European play.
"HE'S BEEN BRILLIANT TO WATCH. HE JUST LOOKS LIKE HE'S LOVING IT – LOVING PLAYING FOOTBALL AND CREATING GOALS AS MUCH AS SCORING GOALS," JACKSON SAID, SPEAKING TO THE HERALD.

"I DON'T KNOW WHAT'S IN HIS CONTRACT, BUT IF THE OPTION IS THERE TO GO AND BUY HIM NOW, THEN, YES, I WOULD GO AND BUY HIM NOW.

"GET IT OUT THE WAY, AND HE'S A CELTIC PLAYER BECAUSE YOU NEVER KNOW WHO ELSE IS LOOKING AT HIM.

"HE'S BEEN GREAT, AND I THINK HE PUTS PRESSURE ON [LIEL] ABADA ON THE OTHER SIDE AND JAMES FORREST AND MIKEY JOHNSTON.

"IT GIVES THEM FANTASTIC OPTIONS, AND HE'S BEEN A REVELATION, REALLY.

"I WOULD THINK CELTIC WILL BE GETTING PRESSURE TO GO AND BUY HIM NOW, AND THE FANS WOULD LOVE THAT."
After a fairly promising start to life in Green and White for the young winger, the majority of Celtic supporters would surely agree with Jackson's views.
So far, we've looked quite excellent under Postecoglou, especially on the attack.
We're only a few months into his tenure as manager, so expect much more from this Celtic team as the season progresses.
The likes of Jota are at the heart of this, and signing him to a long-term contract would be a huge boost for everyone affiliated with the club.
---