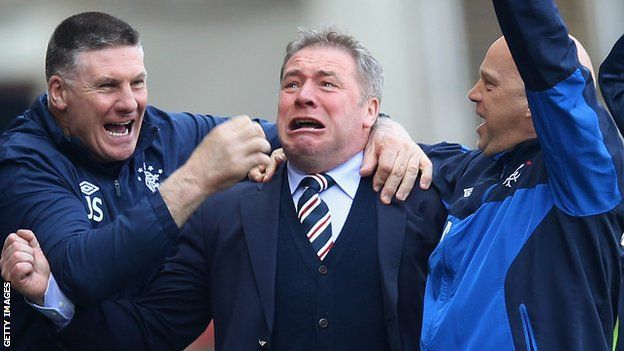 Fat Sally Still Angry And Can't Leave Celtic's Title Alone
Ally McCoist and his friends at Talksport are talking about the whole Celtic asterisk saga again even though the former Rangers manager knows in full that the Hoops were the only team winning the league regardless of what happened.
The pundit sat and watched the Scottish Champions destroy teams week in and out after the winter break, McCoist gazed as Lennon's men racked up a 13 point lead.
Another way of putting it is, McCoist watched his beloved Sevco drop points and fall miles behind Celtic at an alarming rate.
Now the idiot pundit and failed manager has the cheek to even mention some sort of mark next to Celtic's 2019/20 title win.
Rangers were begging clubs to vote for null and void even though it would mean most clubs would not get any money and could go bust.
In the end 80% of the 42 SPFL clubs voted in favour to finish the season as is and award the Hoops their much deserved trophy.
Here is fat sally:
The season has been finished and it is getting finished so that takes away a lot of the mystery of it, if you like.
Getting back to the point I make up here about an asterisk, the only reason you have an asterisk is to tell people it's different.
It might be slightly different but at least you're finishing it. You can't get more different than up here where we're not finishing it, that's totally different.
So if you're minimising the difference, yeah okay it is slightly different. I know Manchester United fans will be at the wind-up but the fact of the matter is yeah, in fact they should stick two asterisks against Liverpool's title.
One because it's different and another one because they've been absolutely sensational just to remind everybody, 'in case you forgot, here's a big asterisk to let you know how good Liverpool have been this year'. So there, stick two asterisks next to it!
---