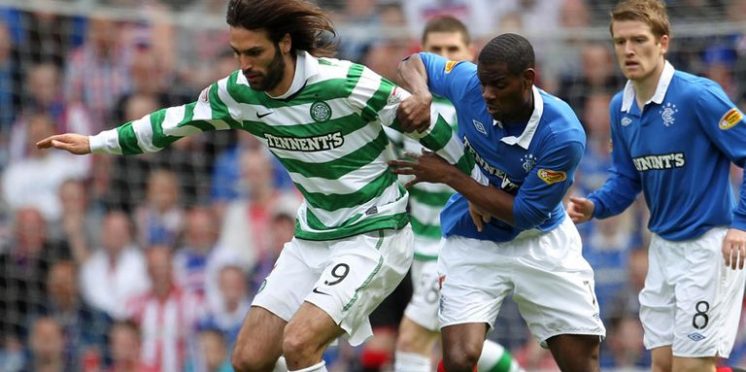 Former Rangers Star "Embarrassed" By Sick Sevconian Fans
Maurice Edu has expressed that he feels embarrassed that Rangers fans had an issue with their players taking a knee during the first two matches in France as it was for Black Lives Matter.
Since the murder of George Floyd in Minnesota sportsmen and women across the globe have taken the knee in support of the Black Lives Matter for equality.
To a normal fanbase this would be no problem and infact Celtic support the movement just like most clubs around the world, but Sevco are a different breed of fans (if you can call them fans) as they seem to have an issue with anything positive.
Defoe spoke out before Rangers left Glasgow for France and stated he hopes that all clubs in Scotland take a knee in support of the cause and Sevco fans went mental online at the striker for even suggesting it, many fans went as far to say that they would hand back season tickets if the club do infact take a knee.
Edu spent three seasons at Ibrox a decade ago, even though he was subjected to racist abuse by his own fans the opposition to taking the knee has left his dejected.
Incredibly embarrassed and disappointed. It's honestly heartbreaking to see so many people so upset that the players and club decided to support the fight against systemic and blatant racism and social inequality.

The comments really just highlight this problem that much more and expose people's true colors and remind us that we have a long way to go with this fight.

SOURCE
Even though as Celtic fans we know how much of a vile supporter base they have it still sickens me to the core as how nasty Sevconians can be.
@AndrewOAyrshireReplying to @RangersFCBitterly disappointed we stooped to that level. A president has been set now and will the club also call out the ever growing discrimination against the Protestant community especially in nationalist run Glasgow City ? I won't hold my breath
@Rabnsfb·Replying to @RangersFCBroken the golden rule, letting politics into football. It splits the fans. It erodes the support what's next the can can because your in France. Good win tonight against a decent team keep it up and we might just let this blow over but not impressed.
If you need to put a colour in front on Lives matter you are the problem #AllLivesMattter
---