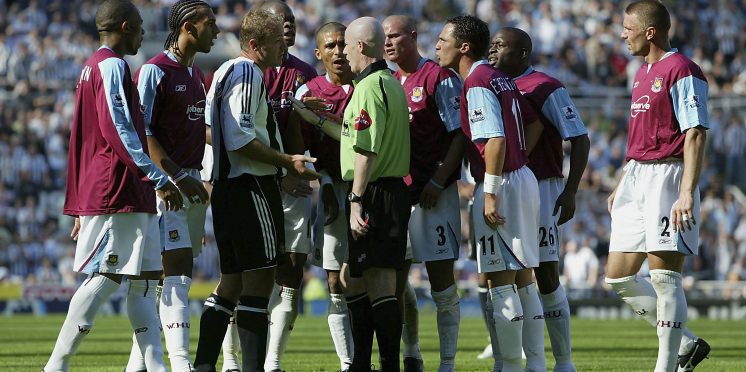 Former World Class Ref Decares Celtic Love Affair
Dermot Gallagher has confessed his love for Celtic as the former high profile Premier League referee explains how he started following Glasgow's famous green and white.
It's quite strange to be speaking about a referee in a good light as most of the so-called top refs in Scottish Football are of Klanbase origin.
Dermot Gallagher has officiated high profile football matches all over the world when he was indeed at the top of his game in regards to a referee standard.
Speaking with the Celtic View, Gallagher reveals the moment that he fell in love with Celtic Football Club.
That day was when his father took him to his very first match against Leeds when Jock Stein's Celtic took them on in the semi-final of the European Cup.
As a young man, Dermot couldn't really make the long journey to Glasgow from Ireland on a regular basis as like most families back in Ireland, money was very tight, especially for a trip every week.
However, the former ref has confessed that he was regularly attending Celtic games right up until the first lockdown due to the pandemic.
Even though Gallagher is a Celtic fan, he still gives his honest opinion when being asked about decisions during Celtic matches and calls it as it is.
"We only went a couple of times because my dad wasn't very rich," he explained. "We lived in a council flat in Dublin and we didn't have a lot of money.

"Then I started playing football when I left school – I would still go when I could – but then, when my refereeing started in earnest, that stopped me and I became a television supporter, so to speak, because I couldn't get the time and couldn't allow for the two days.

"You have to remember that, when I go to Celtic Park, it's a two-day trip for me. So I couldn't take two days off from training midweek, or anything like that -Tuesday and Wednesday were either training days or a matchday.

"It was only when I finished refereeing that I started nipping up now and again, one or two games a season at first, and that turned into three or four, and then five or six. I just tried to go to the midweek games as much as I could.

"I went twice in a week before the lockdown. I went twice in a week – to the Hearts game when we beat them 5-0 in the cup, and then the Copenhagen game, when we lost to them.

"I can only go to midweek games because Saturday and Sunday is taken up with my media work, and I get the 10.32am train from Banbury that goes to Birmingham and then to Preston, and up to Glasgow. "I get into Glasgow about quarter past five. I take a little rucksack with me that has a change of clothes. I'll go to the hotel I'm stopping in for a quick shower. By about six o'clock I'm back out, I get picked up by some friends and we got for something to eat.

"Then we go to Celtic Park, watch the game and then go and have a few drinks afterwards. I head back to the hotel and then I'm on the 8.30am train back the next morning, and I get home at two o'clock that afternoon.

"When you think about it, that's nearly 30 hours, though it's only an hour and a half football match. But it's everything about it – the excitement of going, it's the buzz I get going up. And even when I'm sat reading my book on the train, I'll drift away and I'll think about my Dad and when he first took me. It's just everything about it – the whole adventure, which just makes you feel brilliant to be a football supporter, because it's the greatest thing in the world."
---