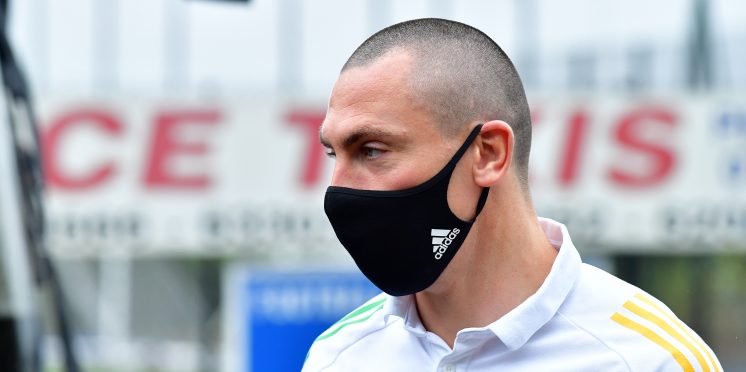 Friend Or Foe: Celtic Skipper Sends Praise To Former Colleague
Scott Brown has compared himself to former Hoops keeper Craig Gordon as the veteran goalie helped Hearts book their place in the cup final against the Scottish Champions.
Both players have debunked the myth that age means that players cannot keep playing at the highest level available to them as both players have won medals with Celtic at the latter stages in their careers.
And guess what, at least one of them will add another to their respective collection, obviously we hope its Brown.
The 37 year old wanted to stay with Celtic at the end of last summer but contract negotiations fell through and Craig Gordon felt that the time was right to finish his career by helping his own boyhood club Hearts where he's also got more than a few fond memories.
No matter the choices that Gordon had made he'll always have his place in the Celtic history books as being a direct part of our 9 in a row run and hopefully 10 also.
Scott Brown has praised Craig Gordon for proving the critics wrong at the age of 37 as many people thought his career was over when returning to the Jambos, now he faces his former club in a cup final.
"HE WAS BRILLIANT ON SATURDAY, WITH SOME SAVES HE MADE TO KEEP HIS TEAM IN IT," SAID BROWN. HE'S A FANTASTIC GOALKEEPER, EVERYONE KNOWS HOW GOOD HE IS AND HE JUST KEEPS PROVING IT.

"AGE DOESN'T REALLY MATTER TO HIM. HE STILL BELIEVES HE CAN DO IT AND PRETTY MUCH ME AND CRAIG ARE IN THE SAME BOAT.

"A LOT OF PEOPLE KEEP WRITING US OFF BUT WE KEEP GOING, WE KEEP COMING BACK AND IT IS ABOUT THAT MENTAL TOUGHNESS THAT EVERYONE HAS GOT AND CRAIG HAS IT IN ABUNDANCE."
The Celtic captain has also stated that he is constantly in the same boat with being around the same age, people keep writing him off and his squad even though Celtic have dominated Scottish Football for almost a decade straight.
That win against Aberdeen will be the game that this Celtic squad have been waiting for as it's something to spark a good run of form that they desperately needed.
If you like reading independent Celtic media, then please click our notification on the bottom right corner so you never miss a post.
Hail Hail.
---