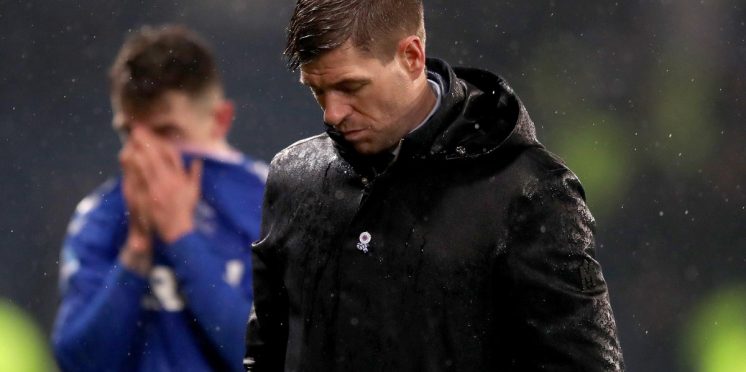 Gerrard Going Nowhere As Celtic Will End His Career Taking Number 10
Michael Brown who is a former Spurs player expects Sevco's failing manager Steven Gerrard to stay with the Newco club for another two seasons and we hope the clown is right.
We'll give credit to the fact that as a player Slippy G was a great player for Liverpool and a club legend but since he chose to sell his soul for a few jelly beans and take the reigns at Mordor, his reputation that he took a decade building is starting to crumble at a fast pace.
In his first season with the manky mob, Gerrard could use his reputation to gain access to (what he thought) good young players awaiting a platform to rise to the occasion and finally stop super champions Celtic FC.
A few seasons later, Gerrard has still won nothing and spent a good bit of imaginary money into the bargain, nearly every summer transfer window Gerrard has changed his squad more than any manager I've ever seen.
This Brown character was spouting some loony bin garbage on Football Insider:
"I've thought about this a few times and you say where is your next club?
"Does he think he'll do another two years at Rangers, really, really learn his trade and then he'll be ready to go to you know where? 
"There's going to be interest in him, that's a given, you'd expect that with Steven Gerard so I don't think this is anything new for Rangers, this is normal." 
He states that clubs will be after him on reputation and we think that is nonsense, the only clubs that will look at Gerrard as a good appointment would be League One and below, at a push a Championship side might take a gamble just like Derby took on Lampard.
Celtic fans will be hoping Slippy stays at Mordor and continues to get battered and beaten, I actually want those pesky Sevconians to turn on him full force so Gerrard knows what a mistake it was coming here, and that day is getting closer.
Lennon and his squad will be remembered for many things next season, the sweetest thing of all will be the squad that ended Steven Gerrard's managerial career at Rangers.
---