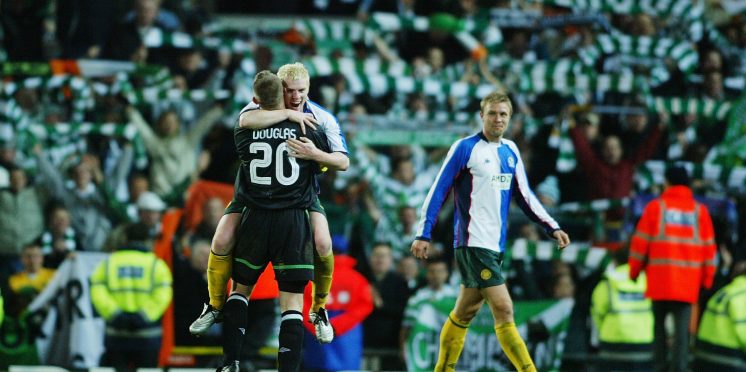 Is Rab Douglas Backing The Winning Horse?
We all know that Rab Douglas is still close friends with his former team-mates and especially Neil Lennon, the former Celtic keeper took to his column to stand by his decision to back the under-fire Hoops manager.
We understand that most people would back their mates all the way, and we do agree that Neil Lennon deserves more respect than he has been given by a section of the Celtic support.
However, the blame will always lie with the manager before the players even if its clear as the day they are not performing anywhere near how they should be, is that because of Lennon or are they literally run down.
Rab Douglas has a regular spot with The Courier UK.
I read all the replies – and most of them were a mixture of positive messages and people making reasonable points about the current situation at Celtic.

There were, of course, the other ones from a few folk who really do have short memories.

Let me start by saying the scenes outside Celtic Park on Sunday evening were incredibly disappointing.

People are perfectly entitled to have their opinions on their club and their manager but the protests went far too far.

Neither me, Lenny or Chris Sutton is daft enough to think that the pressure isn't on him in a big way – and that performances and results like last Sunday's against Ross County aren't anywhere near good enough.

But my Twitter post was a personal way of me showing support for a friend who has supported me and my charity.

He mixes with everybody at our events. It's not just a Celtic thing.

He's a human being first and foremost and the reaction against him has been so over the top.

As a bare minimum, Neil Lennon deserves respect.

Do people not think about all the things that Neil has had to go through in the past away from football? There are short memories on that front as well.
Although I'm annoyed by how Celtic have performed this season and at this moment in time we are handing Rangers a potential huge lead.
I do believe that Celtic will come good and start to find their form, I reckon that we will see a huge change in the January transfer window, probably the biggest window in January we have ever seen.
Certain players will be certain to leave and I'm all for those departures, we will see players coming in also that could change the tide in this season, if Neil Lennon will still be in charge I'm not sure.
However, I will back him if he is, I want to see the club lifting ten and if Lennon is that person I'm with him, what I'm not for is hoping that Celtic will drop more points just so the board will change the manager, that is Hun talk.
---