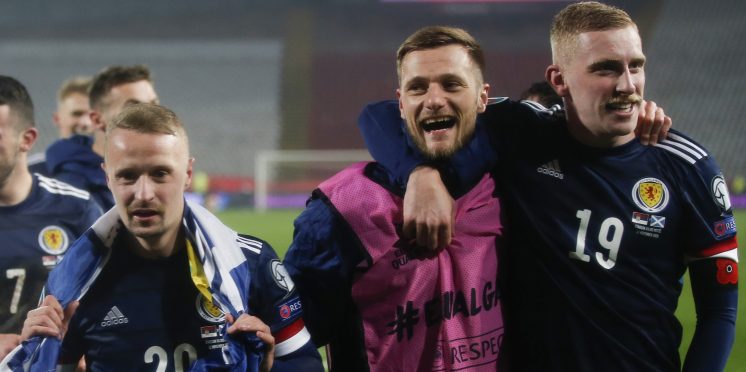 Latest Attempted Slur on Celtic Fans Falls Flat
Once again, it's apparently all the Celtic fans' fault that a player who has nothing to do with us is misfiring.
No goals in 14 games is a frankly shameful record, especially for a player who, by some miracle, commanded a 20 million transfer fee recently.
Yet, this is exactly the record that Oli McBurnie has for Scotland.
True to form, the usual suspects are lining up to protect "one of their own" and blame Celtic supporters for the player's lack of goals.
Numerous blogs, twitter accounts and other social media backwaters have said McBurnie is a victim of "bigotry" from Celtic supporters on social media, on account of his self-professed love of Rangers.
For the record, let's just kick this one into touch right now.
As a Celtic fan, a social media user, and a sports writer, I don't dislike Oli McBurnie because he's a bluenose. I dislike him because of his utterly disrespectful attitude towards Scotland, and his total lack of remorse when called out on it. On a more basic level, its also clear the guy just isn't capable at international level.
Frankly, a player of his very limited ability isn't anywhere near good enough to justify his level of ego.
On a more general note, whether its Rangers, Celtic or whoever, it just isn't a very smart move to declare your undying love for one football team, while you're playing for another. Especially when its a team you will, in all likelihood, never be good enough to play for.
Yes, even Ibrox has some semblance of standards when it comes to player recruitment.
McBurnie is a player who should consider himself extremely lucky to be playing at the level he currently does.
That he is now being found out at international level is no-one's fault but his own.
Perhaps he and indeed his cheerleaders in the Scottish media should employ a little bit of contrition and introspection, instead of casting the blame outward.
If the player has any real desire to become a fixture in the Scotland national team, and I've yet to see any evidence he does, then what's needed now is hard work, and plenty of it. No more tweets about Rangers, no more bitching about being called up for international duty when it's inconvenient and certainly no more blaming others for your own failures.
He has a long way to go to convince me, and indeed most of Scottish football's fanbase.
If my twitter feed is anything to go by, it seems there's finally something that fans of Aberdeen, Hibs, Celtic, Dundee United, Motherwell and even Hearts can all agree upon.
Oli McBurnie is pish!
---