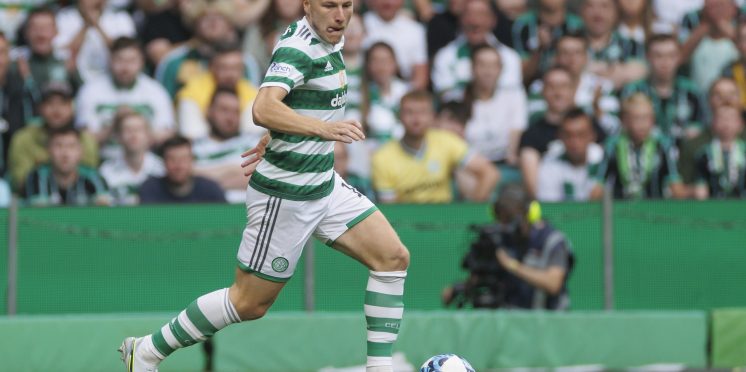 Latest Celtic Addition Happy With His Footballing Minutes
In recent weeks, Aaron Mooy has displayed remarkable play while wearing a Celtic jersey. He also acknowledged how much he enjoys the game the Hoops are playing.
The Australian international is well-known to Ange Postecoglou, who was eager to bring someone with his experience and quality to the club during the summer.
The former Brighton midfielder has finally been given the opportunity to play some minutes after Callum McGregor's injury against RB Leipzig forced him out of the game.
Many had anticipated that the 32-year-old would play the key midfield position, but with Matt O'Riley having to step into Callum McGregor's enormous shoes, Mooy has been given the opportunity to play directly in front of O'Riley, with the two players being an excellent compliment.
He excelled for the Hoops over the weekend in their 6-1 win over Hibs and their cup triumph against Motherwell. Mooy is a well organised midfielder who offers tranquilly to the midfield and possesses a wide variety of passing options.
"IT WAS A GOOD GAME, WE PLAYED WELL AND CREATED LOTS OF CHANCES SO IT WAS A GOOD NIGHT," SAID AARON MOOY SPEAKING TO CELTIC TV. 

"WE'RE PLAYING WELL AT THE MOMENT AND SCORING GOALS SO WE ARE JUST LOOKING FORWARD TO THE NEXT MATCH, SO WE NEED TO RECOVER AND GO AGAIN.

"I'M ENJOYING THINGS, IT'S GOING WELL AND I'VE BEEN WORKING HARD AND WAITING FOR MORE STARTS.

'I'M HAPPY WITH THE WAY IT'S GONE AND I'M ENJOYING PLAYING WITH THE BOYS AND PLAYING GOOD FOOTBALL.'

"IT'S HARD WORK BUT IT'S ENJOYABLE WHEN IT'S COMING OFF AND HOPEFULLY I CAN GET FITTER AND IMPROVE.

"THERE'S ALWAYS MORE FROM EVERYBODY, NOT JUST MYSELF AND IT'S GOOD TO GET MORE MINUTES AND PLAY MORE."
Like many of his colleagues, some have needed a bit more time to catch up, but as the games have come thick and fast, Celtic has risen to the occasion with a lineup that appears to be quite healthy.
---