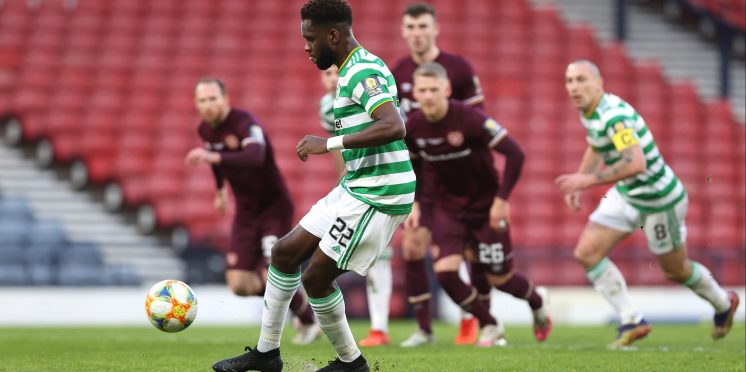 Neil McCann is as Bitter as he is Forgetful
In the scrappiest way possible, Celtic clinched the quadruple treble on Sunday, and the bitter rage of one pundit in particular was there for all to see.
As Celtic took a 2-0 half time lead, rather than discuss the fine football on show, McCann decided to have a go at goalscorer Odsonne Edouard. His "Panenka" penalty was a thing of beauty, catching Craig Gordon completely unawares. However, rather than acknowledge the ingenuity or bravery of this manoeuvre, McCann decided to throw the toys out the pram.
He branded Edouard's penalty disrespectful. When offered the chance to clarify his comments on BBC's Sportscene program later that same evening, he instead doubled down, branding the French striker as "selfish".
What McCann probably doesn't even realise here is that not only are his comments bitter, sad and disrepectful towards the Celtic striker, but they're also an insult to Hearts keeper Craig Gordon too.
Gordon served Celtic with distinction during his time with us, and the Celtic are fully aware of how capable a goalkeeper he is. No doubt he had faced penalties from Edouard in training numerous times during their spell together at Celtic. Gordon is the type of player who studies his opponents and no doubt had a good idea of where he thought Edouard would place his kick.
So, Edouard had to improvise and do something that Gordon would not expect, and so he did.
Gordon's anger in throwing the ball at Edouard and getting himself booked in the aftermath, was most likely with himself for being out-psyched rather than at Edouard for his ingenuity.
As for McCann, well, considering he gleefully took part in a mock huddle when Rangers won the championship at Celtic Park back in 1999, I don't think he's in any position to lecture anyone about acting with dignity or respect. This latest petulant outburst is just the latest in a long line of bitter, anti-Celtic jibes from him.
As many Celtic fans no doubt nursed hangovers yesterday morning in the aftermath of the match, I'm sure they drew a certain degree of satisfaction from knowing that, no matter how much their heads hurt, they won't be hurting anywhere near as much as Neil McCann.
---