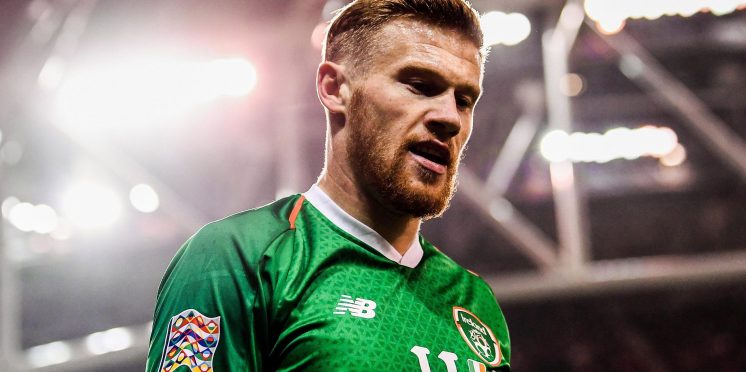 O'Neill Gives Update On McClean To Celtic Rumour
Michael O'Neill has stated in a recent interview that James McClean moving to Celtic will not happen as the Stoke manager thinks a transfer to the Scottish Champions seems highly unlikely.
Celtic fans have wanted the club to push out and sign the Irishman for sometime now and over the last two years there seemed a slither of hope that McClean would finally come and play for his boyhood team.
However, now that door seems to be shut as Stoke's manager himself states that a move won't happen at least in this window. Lennon has been very adamant that he wishes to sign another left/wing back and McClean could have fitted well in that role.
With James McClean missing Stoke's first two games of the season, this gave Hoops fans some hope but it seems that O'Neill wants to keep a hold of the Irishman who was crowned the club's player of the season for the 2019/20 campaign.
He said: "I think that's probably just a rumour that's been created by someone – and it certainly hasn't come from our end. James isn't a player, equally, that we are looking to lose at this minute in time.
"The nature of the transfer window is such that you have to be flexible and if any situation arises with any player you have to give it consideration, particularly where we are at this minute in time.
"We have to obviously deal with the rules of Financial Fair Play and deal with too a squad which is bloated.
"James is no different from any other player in the squad and if the situation arose we'd have to consider it but at this minute in time, I think that would be highly unlikely."
He added: "I think you have to look at the background with James. He didn't play in the last two pre-season games because he was away on international duty and he didn't play when he was away on international duty either – I think he only played 15 minutes.
"In those two games, Morgan Fox played very well, both against Leeds and against Newcastle. All of those are situations that come into the equation when you come to pick your team.
"James I didn't feel did as well in pre-season games as he could have done. I think he's recognised that himself.
"Sometimes when you have to put your subs bench together you need versatility. That's what we did with the subs bench on Sunday.
"Sometimes we read too much into the players who aren't involved and we should perhaps concentrate more on the players who are involved. But equally James is a part of the squad and it's up to him to force his way into the team."
---