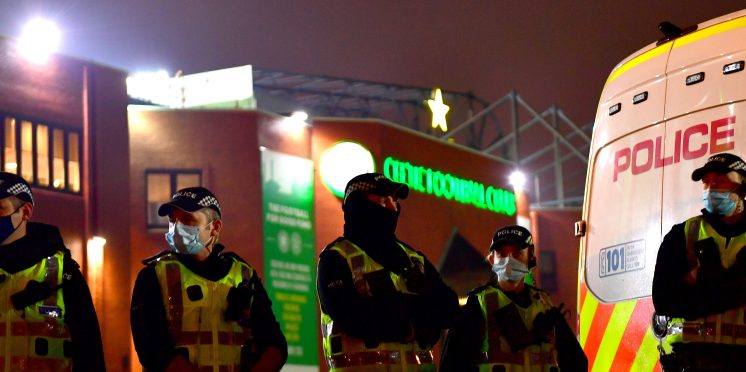 Police Issue Protest Warning, What Happens Next?
I noticed several newspapers this morning confirming that one person has been arrested over the disorder outside Celtic Park last Sunday night. This isn't unexpected though like all suspects, I hope he is given a fair trial and presumed innocent until proven guilty. Not much chance of that now that the tabloid press smell blood, but we can but hope.
In their incompetence, the tabloids, as expected, buried the main story further down the article. The statement from Glasgow's Chief Superintendent Mark Sutherland held a stark warning for frustrated fans.
He said: "The Scottish government regulations are quite clear. Protests of this kind are not permitted in areas where level 4 Covid-19 restrictions are in place. "Any further actions of this type will be dealt with 'robustly'".
Of course any Celtic fan who has ever been a victim of, or observed "kettling" in Scotland knows exactly what Greater Glasgow Police mean when they speak of "robust" tactics. I fully expect this threat to be ignored however. History has shown that when fans are angry, even law enforcement struggle to contain them.
Rumors have been bouncing around the internet all week of further actions against the Celtic Board ahead of this weekend's match with St. Johnstone. However, if further demonstrations do go ahead, then they will most likely have the opposite effect to what the protestors want.
In his obstinate arrogance, Dermot Desmond has made it clear he won't bow to "mobs" as he called them. If further protests do happen, and they turn violent, as the police seem to want them to, then he will only dig his heels in further.
Like many, I also condemned the violent minority who decided to throw fencing at the police on Sunday and who, allegedly, threw projectiles at the Celtic team as they left the stadium. I've still to see any conclusive evidence of this however.
As human beings living in a democratic society, ordinarily we should have the right to peaceful protest. However, in 2020, societal norms don't apply for the time being.
Just the act of protest, under current restrictions, would be considered a crime. It's a futile cause, and not worth getting yourself arrested over. Also, I don't think any of us want to risk catching this covid plague if we can avoid it.
I get that lots of people are angry right now. I get that we are all sick and fed up of the club ignoring us when we complain, yet bombard us with emails whenever they have some new cheap tat to sell. I get that we just want the team to stop losing and start winning again.
Protesting on Sunday however, won't help bring any of this about. The police are spoiling for a fight, the board are looking for an excuse to bury their heads further in the sand, and the players, already looking totally rattled, would only become more nervous and unsettled by all this.
Meanwhile the Scottish government brand us all "despicable" without any attempt to understand the difference between the majority of angry, yet peaceful protestors and a few bucky-fueled neds looking to cause havoc.
That's no slight on anyone who drinks Buckfast by the way. I'm partial to the occasional "bottle out the fridge" myself.
Anyway, back on topic.
In short, a protest on Sunday will do a lot more harm than good. It certainly won't bring us any closer to change in management or an attitude adjustment from the board. We need to be smarter than that. The Celtic Board are capitalists, and all capitalists have the same weakness.
Money.
Deprive them of their beloved incomes and sooner or later they will start to come around to your way of thinking.
If you are a season ticket holder from last season who is entitled to a refund, demand it immediately. If you haven't done your Celtic-related Christmas shopping yet, do it from unofficial sources, not the club shop or website. If you have any subscriptions to Celtic TV or the Celtic View, inform the club you will be cancelling them if change isn't forthcoming.
Starving the board of funds is how we were able to drive through real change in 1994, and a similar movement may be required again now. If enough people follow the above steps it will light a fire under the board like they've never seen before. You will be surprised at how quickly they capitulate.
For a long time, I've felt that the corporate side of Celtic has moved further and further away from the ordinary fans.
My first experience of Celtic was being shown around the stadium in 1989, as a five year old by none other than the late, great Stevie Chalmers. Back then, you could go the stadium, meet a legend like Stevie and still hang around and meet a few current player for autographs afterwards. The passion and love with which Stevie Chalmers spoke of Celtic captivated me. I've been a fan ever since.
Such an experience is all but impossible for today's young supporters though. These days, ordinary fans can't get near the players, and the stadium tour has become a sanitized and impersonal experience.
Celtic was a club set up to fight for the impoverished in our society. It was a club built on a strong, socially conscious footing. That footing has been lost, and it's up to us to reclaim it.
Neil Lennon isn't the problem with Celtic. His being kept on as manager is just one symptom of a far larger issue. Our board have become too arrogant, too lazy and too complacent. We must remind them who is really in charge.
Sometimes, it is what you don't do, rather than what you do that can have the greatest impact. Don't give Celtic any more of your money, until they start earning it.
---