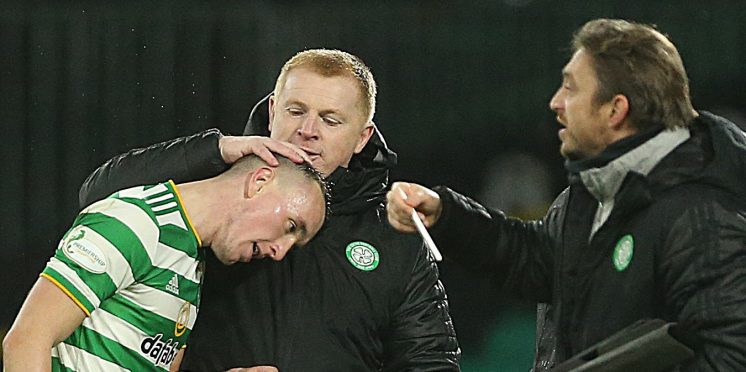 Post Match Manager Comments Raise Concern
What a difference a week makes.
This time last Monday, many of us were shaking our heads wondering what David Turnbull and Ismaila Soro had to do to get a start for Celtic.
Now, most fans and pundits seem to agree they should be the first two names on the team sheet for next weekend's cup final showdown with Hearts.
However, there has been quite a bit of discontent amongst some sections of the Celtic support overnight, regarding manager Neil Lennon's post-match comments.
Lennon said that while these new additions to the starting line-up have made a great impact, for the cup final he also needs to consider "the players who got us there".
Many saw this as a sign that, despite the obvious improvement on the pitch that has come from starting Soro and Turnbull, and two comfortable, confident showings from young goalkeeper Conor Hazard, the likes of Scott Brown, Vasilis Barkas and Olivier Ntcham would probably find their way back into the starting line-up for next week.
I get that fans are on edge at the moment, indeed I had quite a few unpleasant exchanges with some supporters on social media over the last couple of days regarding yesterday's pre-game protest by the Celtic Trust.
However, my own opinion is that we are reading far too much into Neil Lennon's post match comments.
Some have said that Neil Lennon should have come out and said that Turnbull and Soro have done enough to earn a starting berth and that the likes of Brown and Ntcham would have to fight to regain their places.
Had he done so, it would have been very poor man-management. There are a number of reasons for this.
First of all, you don't tell two players who have only just come into the team that they are undroppable. They need motivation and an incentive to continue to push as hard as they can in training, and to make the very most of every moment of game time the manager opts to give them.
Also, you don't throw long-serving players like Brown and Ntcham, or new additions struggling to fit in like Barkas under the bus just because they're having a poor spell of form. They need to know that the door is still potentially open to them. They need to feel appreciated, as part of the squad. With a team like Celtic, who despite two impressive wins in a row are still clearly short on confidence, keeping everyone in a positive frame of mind is absolutely crucial.
Let's say, and I hope this doesn't happen, Soro picks up an injury in training in midweek. If Neil Lennon had already made it clear that Scott Brown wasn't a first pick for the central midfield role, then it makes him look weak if he then has to go and ask Brown to step up.
Finally, and perhaps most importantly is the element of surprise. One of the biggest flaws in the Celtic team this year has been our predictability. We only seemed to know how to play one way and once opponents sussed us out, we had no plan B.
We now have a variety of options both in midfield and defense. Hearts may be a league below us, but they are no mugs. We need to press home every potential tactical advantage we have. That includes the element of surprise.
Expect to see lots of gossip, rumor and false "exclusives" in the tabloids this week. The truth is only one man knows what the team will be next weekend, and that man is Neil Lennon. He'll reveal his plans when he names his team.
As much as I remain to be convinced that Neil Lennon is still the right man for the job, he could go a long way to convincing me and a great many others by bringing home the quadruple treble next weekend.
Here's hoping….
---