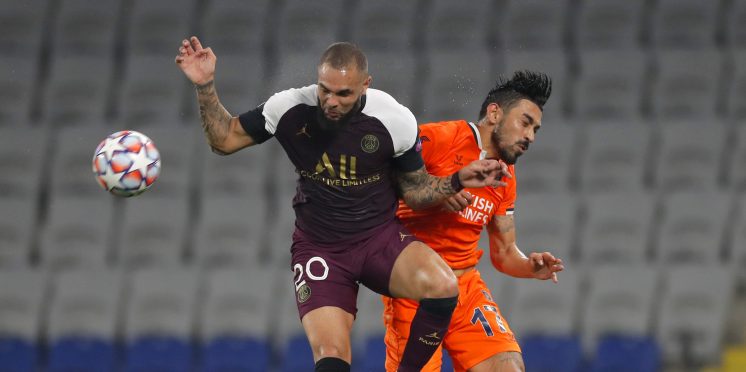 PSG and Basaksehir: A Lesson for Rangers?
I'm no fan of Paris Saint-Germain. The way in which an influx of independent wealth, along the same lines as Manchester City and Chelsea, has elevated a previously mediocre team to among the best in Europe, represents to me the very worst of what is wrong with football at the moment.
And don't even get me started on that cheating wee sh*te Neymar!
However, the PSG players and staff earned my respect for their actions this week. When they left the field in solidarity with their opponents Basaksehir, of Turkey, after one of their backroom team was allegedly racially abused by an official, they went up a great deal in my estimation. That the match was then forced to be abandoned and replayed a day later as a result of this protest should, I believe, set an important precedent.
It does raise the question though: What would happen if Celtic, or indeed any other Scottish team took a similar stance against bigotry during a match?
Now, I'm not going to say that Rangers are the only team in the league who's fans have a problem with anti-Irish racism, but they do seem to be the most frequent offenders.
Imagine a scenario. Celtic play Rangers next year, crowds are back in the stadium in a limited capacity, Neil Lennon, somehow, remains as our manager.
As Lennon takes his seat in the dugout, an individual fan can be heard quite clearly shouting: "F*ck off Lennon! Ya Fenian B**tard!"
Lennon reacts, swearing and gesturing back at the individual, as most of us would probably do in such a scenario on the street. The fourth official issues him with a red card for his actions.
Imagine next, if  you will, that after decades of listening to this vile hatred at multiple stadiums across the country, Neil Lennon decides he's had enough. He calls his players over and they walk up the tunnel together.
What would happen next? Well sadly, I think we already know the answer.
The game would probably be awarded to Rangers and Celtic would be fined and possibly docked points for failing to fulfil a fixture. For sadly, in our self-proclaimed "Best small country in the world" anti-Irish racism is alive, well and largely unchallenged by the powers that be.
Whether its down to actual bigotry or simply political expediency, I don't know. But the fact remains that the Scottish government have, to date, shown little if any interest in genuinely tackling the underlying problems of sectarianism and anti-Irish racism that have plagued our nation for almost 150 years.
Instead, they cower behind the all too familiar "both as bad as each other" narrative.
Now, do Celtic have some truly hateful and idiotic people amongst our support? Yes, sadly we do. Every football club does. The abuse meted out to the likes of Mark Walters and, allegedly, Alfredo Morelos was utterly unacceptable.
However, to say we have a problem on the same scale as that which has plagued Rangers both old and new, for more than a century is simply not true.
It does however give politicians an easy out, rather than facing up to the actual nature of the problem. There remains institutionalized bigotry, bias and racism in Scotland. Rangers is just one outlet around which supporters of these views coalesce.
There are some in the history of both incarnations of Rangers who deserve some credit for trying to break this mould.
Back in the early 80s, Rangers manager Jock Wallace said that religion was no longer a consideration for him when deciding which players to sign. Graeme Souness finally took the bold step of actually signing a Catholic in 1989, and not just any catholic but former Celtic striker Mo Johnston.
Finally, under Dick Advocaat in the early 2000s, Rangers had their first Catholic club captain in Lorenzo Amoruso and it became fairly commonplace for a Rangers starting 11 to feature more Catholics than Protestants.
For each of these progressive steps, the managers involved deserve immense credit.
Unfortunately, while the team has evolved, large segments of their fanbase haven't. The same hatred remains. It seems a few years in the lower leagues did nothing to mellow their bitterness. If anything, it just made them worse.
Even now, as they sit top of the league, their fans seem more interested in hate than they are in their own team's success. The rapidity with which any attempt at dialogue with them quickly descends into anti-Irish hatred and their twisted obsession with child abuse demonstrates this.
Watching PSG and Basaksehir make a stand for decency and tolerance this week, gave me hope. It also depressed me to know that such a thing will probably never be allowed to happen in Scotland.
---