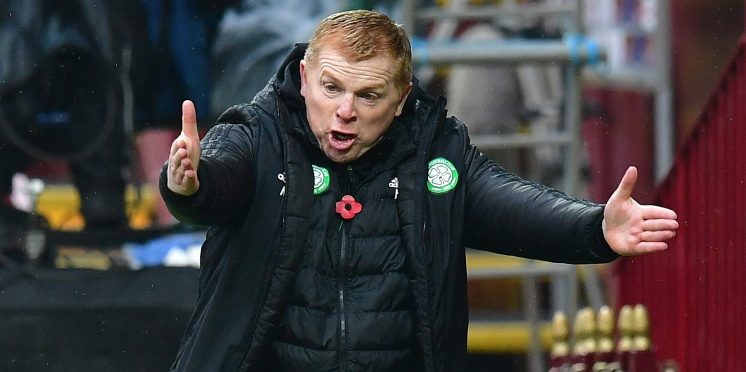 Referees in Scotland: When do we say enough is enough?
I spoke last week of the threat that the Scottish gutter press pose to Celtic's quest for ten in a row this season.
In light of the fallout from yesterday's 4-1 win at Motherwell, I felt that today we should perhaps focus on another, more obvious hurdle to our record-breaking ambitions, Scotland's referees.
As I write this on Monday afternoon Japan time, there has been no further news on the extent of Jeremie Frimpong's injury, other than confirmation from manager Neil Lennon, that the young Dutch defender will have a scan today to ascertain if there's any ligament damage.
Motherwell are known as a team that often favours a robust approach, especially when it comes to tackling.
To be honest, if I was a Well fan, I'd probably be advocating a similar approach whenever the likes of Celtic or Rangers came calling.
They certainly aren't the first team in Scotland to push excessive physicality in the absence of any discernable footballing flair.
However, there's a big difference between "firm but fair" and the kind of reckless endangerment we saw yesterday.
Devante Cole's thigh-high, studs first attack on Jeremie Frimpong could, under other circumstances have been career threatening. It was dangerous, it was unnecessary, and it was totally irresponsible.
Equally reprehensible was the attitude of Motherwell manager Stephen Robinson, who is ordinarily a guy I have a lot of respect for. He refused to condemn the player or even acknowledge that it was an obvious red card.
BBC pundits Michael Stewart and Marvin Barkley, to their credit, both agreed it was a disgraceful challenge and an obvious red card.
However, as we Celtic fans know all too well, its not on us, the manager or TV pundits to call out foul play. That's the job of the referee, and once again, Andrew Dallas was found sadly lacking.
I don't know Dallas personally, so I'll give him the benefit of the doubt and assume his actions yesterday were borne of a poor performance rather than anything conspiratorial.
The fact of the matter is, he should have issued at least one red card during yesterday's match. This certainly isn't the first time his conduct on the pitch has been called into question, and not just by Celtic fans either.
However Andrew Dallas is a symptom, rather than the cause of a far-wider problem. It's probably unfair to single him out when the likes of John Beaton have committed far more grievous acts of stupidity, both on and off the pitch.
As much as we may criticize him, I've yet to see Dallas photographed drinking with Rangers fans hours after officiating a derby match.
That the likes of Beaton continue to referee at the top level in Scotland, just proves that there are inherent biases in how some referees here are selected and trained.
I would recommend that you check out Paul Larkin's excellent documentary film and accompanying book "Anyone but Celtic" for further information on exactly why this is the case.
Conclusively proving bias or corruption in a legal context is very difficult though, with a high burden of proof on the accuser.
Instead, we can point to obvious statistical anomalies and individual anecdotal evidence of officials applying differing standards to the same scenarios, when different teams are concerned.
Take this season as an example.
To date, Rangers have committed a team total of 155 fouls, receiving 12 yellow cards. Celtic, despite only having committed 139 fouls, have received 13 yellow cards.
So, statistically speaking, Rangers need to commit just under 13 fouls as a team to receive a yellow card. For Celtic, this drops to 10.7 fouls per booking.
It doesn't sound like a big difference, but balance that out over a season and that's a lot more bookings and potential suspensions.
Then of course, there was the infamous study published by CIES Football Observatory this summer. According to the study, since 2018 Rangers were awarded a penalty kick every 411 minutes, compared to every 681 minutes for Celtic.
The bias isn't just anecdotal, it is statistically proven.
Despite growing pressure from fans of many clubs to make refereeing a full-time and fully accountable profession in Scotland, as it is in England, the governing bodies have, thus far, refused to even consider it.
The also refuse to allow for any kind of system of dialogue by which referees can speak directly to the media or fans to address these mistakes.
This an area where I actually have quite a bit of sympathy for referees.
We all make mistakes in our daily lives. I'm sure I'll probably find a few typos after I finish writing this story.
The difference is, nobody is going to get relegated or potentially lose their job because my dyslexia suddenly decided to flare up.
However, in the same way that I have access to a spellchecker, referees in Scotland also need an open and transparent system for them to acknowledge and apologize for their mistakes. This would also allow them to explain their rationale behind controversial decisions.
The lack of such a system not only gives the impression that officials are aloof, arrogant and consider themselves above scrutiny, it also feeds into fans' notions of conspiracy, corruption and bias.
In a day and age when millions of pounds in revenue and indeed the very existence of clubs can hinge on an official's whistle or a linesman's flag, it's no longer acceptable just to say "the ref's decision is final".
There needs to be accountability and where necessary, corrective action taken for injustices on the park. As an example, the fact that we can currently appeal a red card but not a yellow, is nonsensical.
Leaving all such disputes at the feet of one solitary "compliance officer" is also utterly ridiculous.
Unfortunately not only is there little appetite amongst Scottish football's governing bodies for positive change, there is seemingly little enthusiasm from Celtic either.
But this problem isn't going to go away, and occasional, ineffectual statements from the club will do nothing to remedy it. Celtic need to develop a robust policy for responding to incidents where we feel we aren't treated fairly. Our rivals across the city aren't shy to exert pressure on those they feel have wronged them, and in a year when so much is at stake, we shouldn't be either.
Much like the "hit pieces" in the press, I fear that until the club grow a backbone and start speaking out against obvious flaws in the system, the "honest mistakes" from referees in Scotland will only continue.
---