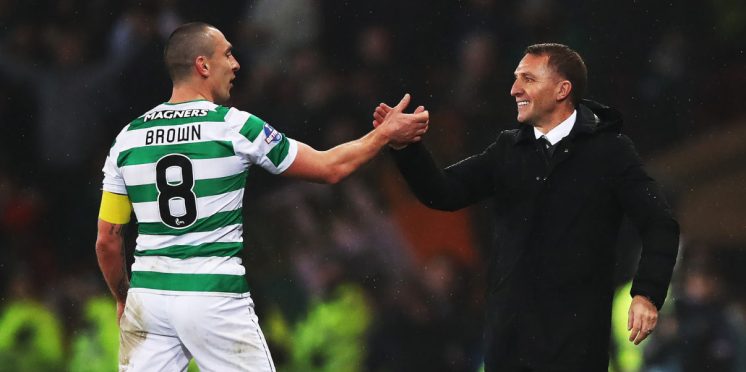 Rodgers Takes Credit For Legendary Brown Turnaround
Brendan Rodgers has now claimed that he was advised to move Scott Brown on from Celtic when he first took over at Parkhead.
After a poor season under Ronny Deila back in the 2015/16 season, many players were under fire and not only Brown.
The squad needed a man in-charge that had more experience and knew how to keep players in line.
Rodgers has now stated after all these years, that he was advised to sell Brown, but the former Hoops manager decided to have a career changing talk with the Celtic captain.
Rodgers said: "He was an incredible captain for me. But funny enough, before I joined, someone rang me and was telling me about the job and one of the first things they said was, 'If you're going to play how you want to play there Brendan, you're probably going to have to move on Scott'."

He said: "When I knew I was taking the job, I invited him down to my house in London and we had a chat, had a really good chat.

"I explained the ideas but I also was telling him about behaviour, because before I went in Celtic had lost in the Cup semi-final and they were well beat.

"They lost on penalties but they got dominated in the game by Rangers. So there was a real fear and a sense that Rangers had got back up to the top level, they've beaten Celtic in the cup."

He said: "Obviously leading into that game Scott was sat on the street having had a night out.

"And the point I was making to him straight away was, "You can't do that – if you want to be the best player you possibly can be and you want to lead a club of Celtic's status, an institution, then you're one of the pillars of this club.'

"And from that meeting on he was incredible for me."

He said: "This is a guy who… I wanted to help him tactically, because I seen him as a young player, he used to run all over the place.

"But what I was trying to get him to do was to think and run and not just to run. And from that it was going to be a tactical shift in how he would play but always knowing he had the personality and he also wanted to be better and improve.

"And I've got to say, he was absolutely magnificent for me. I couldn't speak highly enough of him as a guy. He played the game like he was trying to show people this is the first time that you're seeing me play, every single game.

"It wouldn't matter if that was Rangers in a semi-final or final or up at Aberdeen or away at Inverness or away in Barcelona, home to Man City.

"It didn't matter, he was playing like the people watching were watching him for the first time."
---