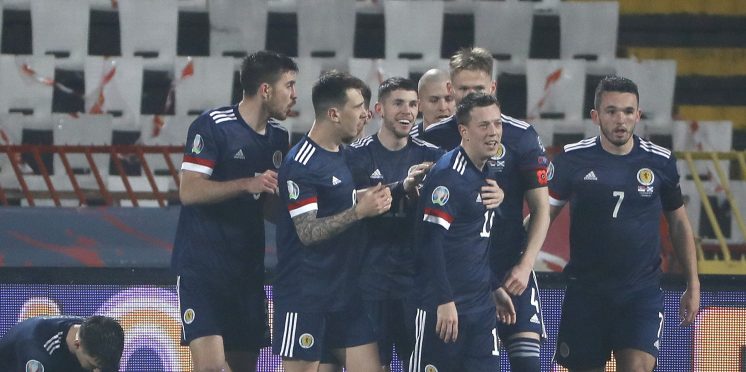 Scotland's Hero: Emotional Ryan Christie Speaks For Us All
Does anyone else get the feeling that the wider world took a turn for the better this week?
A dictator deposed in the US, a successful vaccine for Covid-19 on its way, and now, perhaps most surprising of all, Scotland actually qualified for something!
I predicted yesterday that Scotland would crash and burn in Serbia. Never in my 20 years of writing professionally have I ever felt so happy to say: "I was completely wrong!"
As I write this on the afternoon of Friday the 13th, I'm a little scared to move. I feel like I've already used up all my good luck for this week!
For many, the highlight of the night was former Celtic goalkeeper David Marshall's brilliant and decisive penalty save that clinched the tie.
However, for me, and probably for most Celtic fans the highlight of the night was undoubtedly Ryan Christie's tear-soaked post match interview.
Having scored the opening goal for Scotland, but later being substituted as the game looked won, Christie could only watch on in agony, as the Serbians snatched a last minute equalizer.
A tense 30 minutes followed before Scotland converted 5 penalties without fail, including one each from fellow Celts Callum McGregor and Leigh Griffiths. Former Celtic goalkeeper David Marshall, fondly remembered for a heroic display at the Camp Nou back in 2004, as Celtic drew 0-0 with Barcelona, sealed the famous win with a superb save from Serbia's final kicker, Aleksandar Mitrovic.
Christie was visibly choking back the tears as he spoke of how much the win meant to him, to his team mates and to the country.
He described the agonizing wait as extra time then penalties played out as "the worst time of my life".
His combination of relief, joy and emotion will no doubt go down in history as one of the iconic sporting highlights of 2020.
Whether you were cheering for Scotland last night or not, you can't help but be caught up in the sheer power of the occasion.
As we near the end of what has been an absolutely horrific year for most us, it's good to have something to smile about again.
All I can say is, bring on Croats, the Czechs, and of course the English next summer!
Can Scotland go beyond round one?
With Celtic's stars pulling the strings in midfield, anything is possible.
---