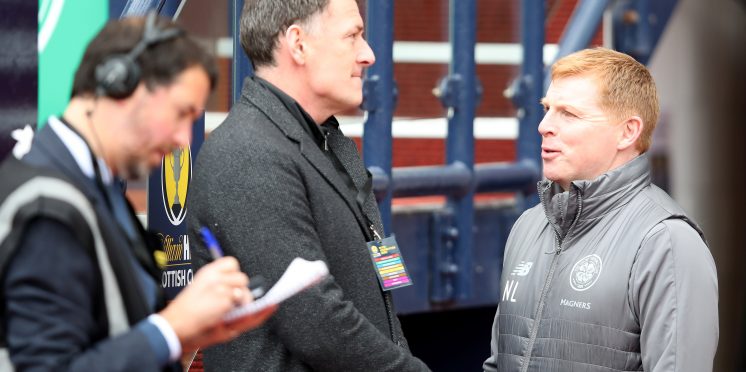 Sutton Fights Lennon's Corner: Brands Celtic Fan Group As "Despicable"
Chris Sutton has come to the defence of Neil Lennon and branded the acts of the Green Brigade as "shameful" as the fan group had a message for Celtic and Lennon in banner form.
This kind of activity has been building up for months as Celtic have been struggling on the field.
Neil Lennon has been tinkering with the squad and trying to find the perfect formation and squad to get Celtic going this season, so far Lennon has failed.
Since Celtic's unconvincing draw away to Hibernian, the Hoops fans have been calling for Neil Lennon to step down as manager of the club. It's still a bit of a divided camp amongst the Celtic support as most fans can see Lennon making a comeback this season.
Chris Sutton had plenty to say on the banner matter on the Rec-Podcast.
I thought that the stuff with the banner outside the stadium was just a bunch of idiots, I really mean that because what good can it do?

What positive does it do. We all love the game, we all have different opinions about things. I've got a lot of Celtic supporting friends, they have texted me saying that 'Neil Lennon has been a great servant to the club, great player, he's had great success as a manager and it is time for him to move on' in their opinion.

And you know what, I understand that and I understand the frustration with a lot of fans out there at the moment. They've had it so good for a long, long time but you know the stuff, the banner outside the ground this morning, there was a sense of entitlement and just spoiled, I don't want to swear but I just don't get that, I don't get the upside of that. There wasn't one. It's totally disrespectful to a guy who, the manager who has served the club with aplomb.

I've had an association with the club for a long, long time. I actually think what happened outside the ground is shameful, unnecessary, unwarranted. I feel sad for Neil with this as much as anything. I actually do, what he has actually given to the club. You know he has toiled for years and worked hard as a player, given his absolute all, his heart and soul to Celtic Football Club and then for people to treat him like that.

If you want him to go then fine, that's an opinion but I think that there is a way to do it and to do it with a banner outside the stadium as they did this morning, I thought was despicable.
There is still a huge chance that Celtic can win their games in hand and get three points in our final derby game this year.
All it takes is a few bad results for Rangers with Celtic going on a winning run, things would look more pleasing to fans.
---