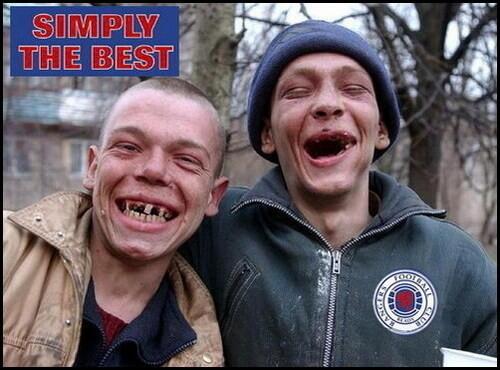 Sutton Rips Into Sevconians With Gerrard Claim
Celtic's favourite pundit and former striker Chris Sutton has ripped into Steven Gerrard yet again by claiming that fans are deluded to think Slippy is the one to take the manky club back to the "promise land".
Since Gerrard took the reigns at Ibrox more than 2 years ago, the rookie manager has achieved very little and although he has claimed a small amount of important wins, there are still no major trophies in the Newco club's cabinet.
Sutton can't believe that fans still think Gerrard is the man to get them back on track as the former Celtic striker believes that he can only be judged on the trophies he wins at a club like Rangers of which there are none.
With Celtic going for that record breaking 10th straight title in a row, this most probably will be the last season Steven Gerrard will be in charge of Sevco if he's even still here come the first game of the season against a tough Aberdeen as there are rumours of Bristol City wanting the Liverpool star to take charge.
"Their fans have a lot of faith in Steven and want to believe is he the man who can take them back to the promised land and stop Celtic, but he has proved nothing so far." Sutton told TeamTalk.

"He's not won a trophy for two seasons and now the pressure is on him. Their boss needs to stop coming up with the excuses and deliver and trophies are all that count when you are their manager. . .

"I know they were moaning and groaning about the way the season ended, but they were 13 points behind Celtic and there was no way they were going to make up that ground, so they only had themselves to blame for losing the title."
---