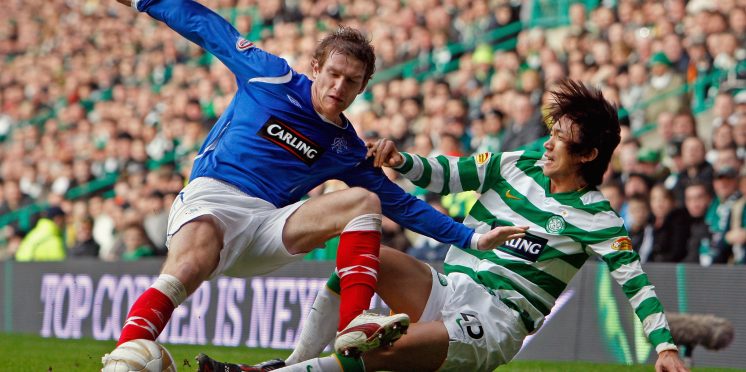 That Time Shunsuke Nakamura Was Pitted Against Giant Robots
Shunsuke Nakamura's accuracy is ridiculously impressive, so surely the only way to properly assess it was to pit him against giant robots?
Not too long ago Nakamura took time out to appear on a Japan TV show and put his deadly free-kick abilities to the test.
In what very much looked like a Takeshi's Castle-type setup, Nakamura was challenged to of score free-kicks against a giant, robotic goalkeeper who pretty much covered the net.
He proved he definitely still has it by converting several inch-perfect free-kick into the back of the net with his wand of a left peg.
The Japanese ace is comfortably one of the greatest free-kickers in football history, banging in so many for Celtic over the years.
And he has a knack of succeeding in challenges set by TV shows back in his native Japan.
This challenge, set to him by a Japanese TV show, must have been one of the most difficult he's had to face – even for a bloke who scored a winning free-kick against Manchester United in the Champions League back in 2006.
He was tasked with whipping the ball through the window of a moving bus and completely and utterly smashed it, bending it right into the bus from a considerable distance. The first attempt, no problem whatsoever.
The slow-motion replay shows just how beautifully he struck it and you could see how proud he was in his celebrations.
The former Japanese international left the Celtic in the summer of 2009, after scoring 34 goals, winning three league titles and several domestic cups in Scotland, winning the hearts of the Hoops' adoring support.
---