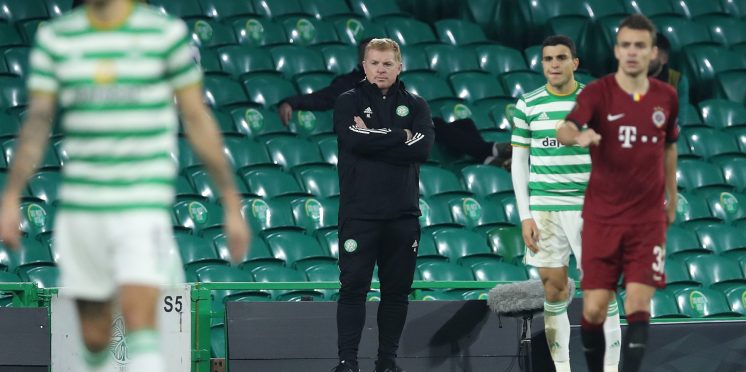 The Last Straw? Calls Grow for Lennon to Go
"Gutless, chaotic, f**king hopeless!"
These are just some of the words I've seen being used today to describe Celtic's humiliating 4-1 home defeat by Sparta Prague last night.
As is always the case when the team takes a pumping on the park, calls grow for the manager to take the fall.
Among certain Celtic supporter factions this morning, Neil Lennon seems about as welcome as Donald Trump at a Black Lives Matter rally.
I've been one of the manager's most outspoken defenders in recent weeks.
When we looked slick in our semi final win over Aberdeen last week, I really thought we had turned a corner.
Then Sparta Prague happened.
Now, Sparta are a team of considerable European pedigree. At their best, they are a side that could compete with anyone at Europa League level.
However, this wasn't Sparta at their best, it was barely even their first team.
Covid-19 decimated their squad ahead of Thursday night's tie, with several guaranteed starters missing out.
In Scottish footballing parlance, this really should have been "a shooty-in one" for Celtic.
But, as following the US Presidential Election this week has taught me, there's nothing more dangerous than thinking you've got it in the bag before a ball is kicked.
Celtic played last night like a team that expected an easy ride. They seemed to think all they had to do was turn up, and the win was assured.
You can't do that at this level, no matter how many injuries the opposition have.
The general feeling among Celtic supporters this morning, even those who weren't previously calling for a change of manager, is that the team "chucked it" last night, mentally and physically.
That is not acceptable, and it is something for which the manager must take responsibility.
A similar skelping by St Mirren ended the Celtic managerial career of Tony Mowbray and many are making that comparison today.
However, with all due respect to the Buddies, St Mirren are not Sparta Prague.
That doesn't mean it isn't a potentially fatal blow to our current manager's employment.
I'll stop short of calling for the manager's head at this time. However, this really is the last straw as far as this Celtic fan is concerned. We need big changes and a big result in our next game.
Anything less than a convincing win, indeed a run of convincing wins over the next few matches, and I am afraid even I will no longer be able to stand with Neil Lennon.
I really hope he can turn it around.
The next few games will determine that.
---