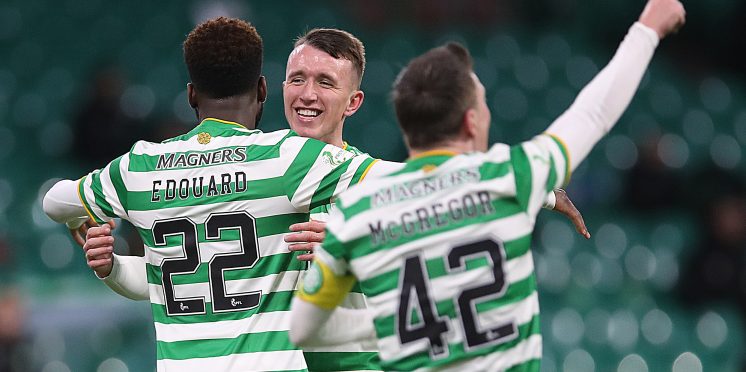 The Reason "The Bull" Feels Blessed To Be Playing For Celtic
How Celtic's David Turnbull talked to The media masses.

The interview addressed the effect he's made on Celtic after making the breakthrough after a few months on the bench, how some of his teammates have impressed him and any possibility he could make Steve Clarke's Scotland roster for the Euros this summer.

In addition to being made a first-team regular, the £3m summer signing from Motherwell is hopeful that there's so much more to come from him in a Celtic jersey.
"I would say there is more to come," Turnbull said, as reported by Daily Record. "Obviously, I have scored another goal, but I would like to add more and get more assists. I want to keep creating more chances in every game.

"I feel I have been in great form and have scored some great goals. I would just like to keep adding to that, to continue creating and scoring as many as I can."
Surprisingly, Turnbull's most consistent player is Odsonne Edouard, who despite his reputation, has been relatively quiet this season.

He has been improving lately and his latest double at Perth shows that he is on the way to achieving his best form this season.

Turnbull praised the French Under 21-star striker who is definitely departing the club at the end of the season.
"Yeah, he is world class," Turnbull admitted. "He is a great player to play beside. I can link up well with him. You know he is going to do something magic or play a one-two with you. We are on the same wavelength. It is good playing alongside him."
Scott Brown is the elite Celtic, the star of the Celtic team, a Ferrari of a player, and the chance to play with the like of Brown is something that will encourage Turnbull to improve his talents even more.
" I think I learn from the game intelligence of the older boys – the Cals and the Broonies. They give you wee points and you learn off them every day on the training ground from what they do."

"Confidence is coming because we are winning games," Turnbull added. "That is a good run we have gone on now. Every game we go into we feel more confident. Any time you win, you feel more confident. It feels good when you get the plaudits some of the time, but it's a team game. Every game I have been involved in I feel the team has done well. It is just nice to contribute however I can.

"We have got pride to play for. We will keep pushing until everything is mathematically done. We are just going to keep pushing in every game and try to get the wins. The confidence keeps coming with every win we get. We push on and I am sure we will be able to do that."
---