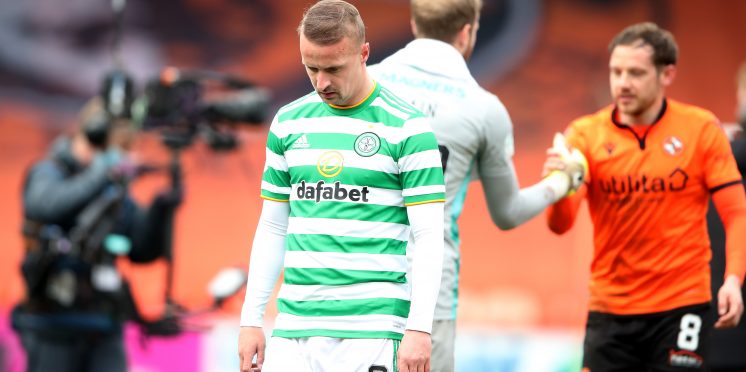 Will Griffiths Remain At Celtic Or Will The Striker Choose A Fresh Start?
Celtic are set to lose a tonne of players next season, so expect a lot of improvement. Leigh Griffiths, who has slipped out of the first-team picture this season, may be one of them.
Griffiths has scored 122 goals in 257 games for the club since joining from Wolverhampton Wanderers in 2014, according to Transfermarkt statistics, and also had a 40 goal season in 2015/16. This season, though, has been a forgettable one for many of the club's stars, including him.
It all started on the wrong foot when he was deemed unfit when he arrived for the pre-season and therefore missed the first half of the season. And he hasn't been able to string together a string of games this season.
Griffiths' Celtic career, according to former teammate Kris Commons, is winding down. He wrote in his Daily Mail column, as reported by the Daily Record,:
"Leigh Griffiths is 30 just now. But, rather than firing on all cylinders, it feels like his Celtic career is just being left to fizzle out."

"At the moment, he is drifting into obscurity.

"He needs a spark and a fresh start. Come the summer, he will only have 12 months left on his contract. A parting of the ways might be the best solution for all concerned."
In 21 games this season, the Scottish international has scored six goals. Griffiths will have been eager to reclaim his form and compete in the Euros, which are set to take place this summer. However, it seems to be highly doubtful at this time.
Although it would be ideal if Griffiths should finish high and serve Scotland at the Euros, it seems impossible. And there are rumours that he might be leaving Parkhead in the summer.
It depends on who the new manager is and how Griffiths fits into his plans, as it does with a lot of things. If he doesn't, it's difficult to see him staying at the bar. Aberdeen and Hibernian have been mentioned as potential destinations.
But that is for the future. For the time being, Griffiths must work diligently and seize opportunities when they arise.
---